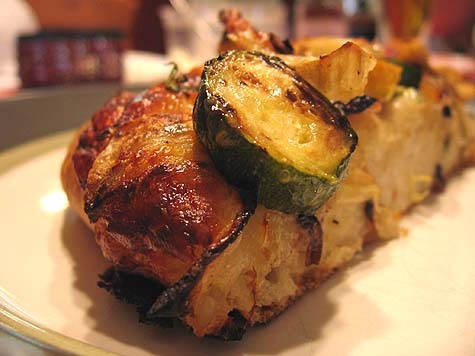 This was really good. I used pizza dough from Pasta Works for this, but you could also make your own (this is a good, easy recipe) or use a store-bought crust. I grilled my squash first and caramelized the fennel. You don't have to do this. If you don't, use the 2 tablespoons of olive oil to drizzle over the pizza before you bake it.
I also made a balsamic reduction for another part of the meal but we discovered that it was delicious on the pizza also! The vinegar really helps cut some of the richness of this pizza (and with brie and olive oil, it is mighty rich!) Just pour a little balsamic vinegar in a pot and reduce it for a bit over medium heat. Then proceed to drizzle.
On the side we had some prosciutto-wrapped melon which was amazingly good. Pictures below.
If you are going to cook the squash and fennel first, you don't have to slice that thinly. If you are using them on the pizza raw, slice them very thinly!
Tarragon Pizza Bianca
Adapted from a recipe in Bon Appétit, April 2004
pizza dough for one pizza, store bought or home-made
2 tbsp extra-virgin olive oil
2 tsp chopped fresh tarragon
1 cup (packed) grated whole-milk mozzarella cheese
1 medium fennel bulb, trimmed, sliced
1 small zucchini, sliced
1 small yellow crookneck squash, sliced (I used three small yellow squashes)
1 minced shallot
3 ounces Brie, rind removed, cheese cut into 1/2-inch cubes
balsamic vinegar reduction for drizzling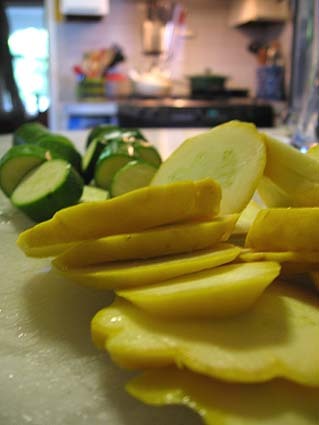 Brush grill pan with 1 tbsp olive oil. Grill squash briefly to obtain tasty grill marks.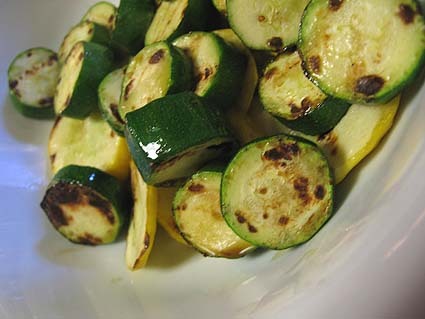 For the fennel, saute in a pan with another tablespoon olive oil, so that it gets a little golden and caramelized.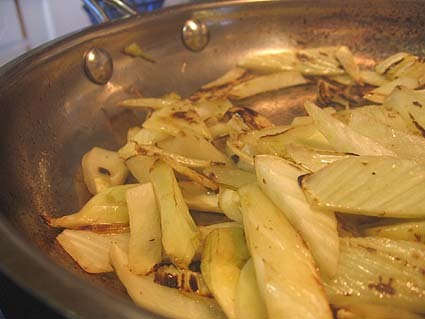 Position rack in bottom third of oven; preheat to 425 degrees F. Oil baking sheet. Spread pizza dough out on prepared baking sheet.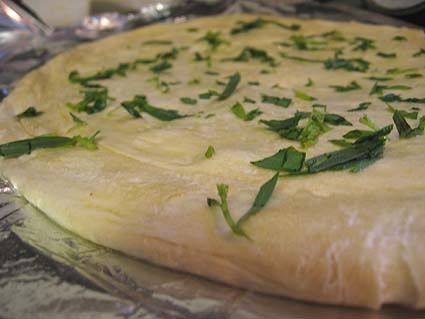 Brush 1 tablespoon oil over pizza dough; sprinkle with 2 teaspoons tarragon. Top with brie slices and vegetables. Sprinkle with shallot, salt, and pepper. End with the mozzarella.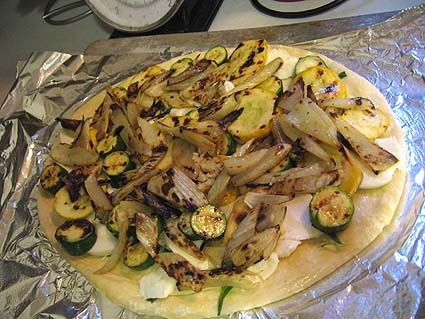 Pre-mozzarella.
Bake until cheese is bubbling, about 15 – 18 minutes. Cut each into wedges and drizzle with a little balsamic vinegar reduction. Serve and nom.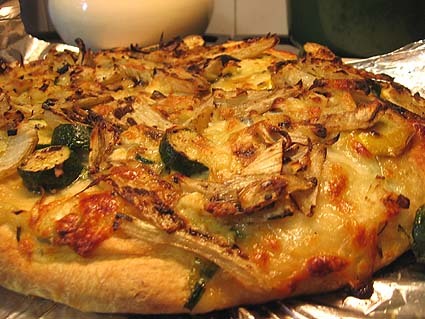 Oh and on the side we had these amazingly tasty slices of cantelope, with some basil, wrapped with prosciutto and then drizzled with a baslamic reduction.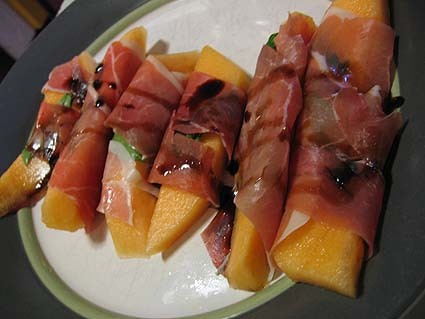 Yes, that was as good as it sounds and looks). Here's another picture of that just because it's so pretty looking.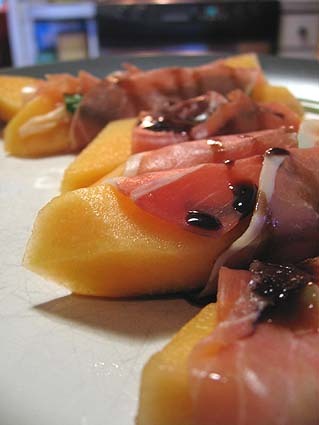 But not too pretty to eat, that's for sure! Now I want more. Hmmm, must find melon and prosciutto immediately. Maintenant!