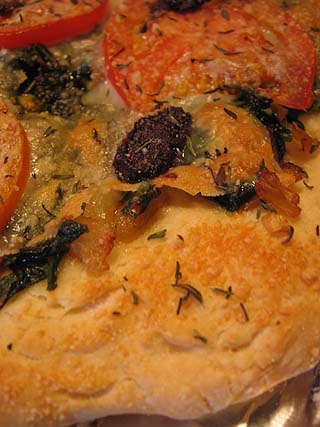 One of the things I really like about working downtown is the Wednesday Farmer's Market in the Park blocks. This week, I hiked up there with the intention of finding ingredients for a pizza, as I had just come across a dough recipe in Fine Cooking that I wanted to try out.
My trip was a complete success as I scored some fresh green garlic, a big spring onion, local Mozzarella, tomatoes on the vine and some spinach. And I'm happy to report this dough experiment was also a complete success and I am becoming less and less afraid of yeast bread making. Hooray!
Easy Pizza Dough
From Fine Cooking magazine
1 package (2-1/4 tsp.) active-dry yeast
1-1/2 cups very warm water (100-110°F)
18 oz. (4 cups) all-purpose flour; more for dusting
1-1/2 tsp. salt
2 Tbs. olive oil
First, dissolve the yeast in the warm water and set aside for a few minutes (5-10). Then, put the flour and salt in a food processor fitted with the steel blade; process briefly to mix. With the machine running, add the water-yeast mixture in a steady stream. Turn the processor off and add the oil. Pulse a few times to mix in the oil.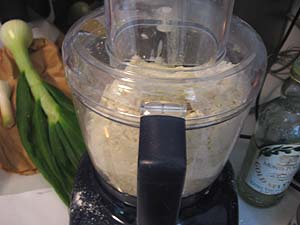 Now, I did this in my small-sized food processor and it just fit. If you don't have a processor, I don't see why you couldn't just use your hands or a spatula to mix it and get it into a dough state. But, again, I used my processor, so I could be assuming too much about the hand/spatula thing. Maybe a stand mixer with a dough hook?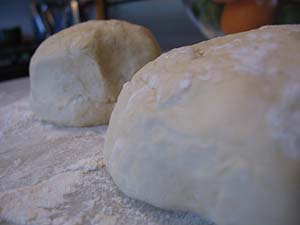 Scrape the dough onto a lightly floured surface. With lightly floured hands, quickly knead the dough into a mass, incorporating any bits of flour or dough from the processor bowl that weren't mixed in. Cut the dough into four equal pieces with a knife or a dough scraper. Roll each piece into a tight, smooth ball, kneading to push the air out. Here, mine were not perfectly smooth but they seemed to be smooth enough, as it worked fine.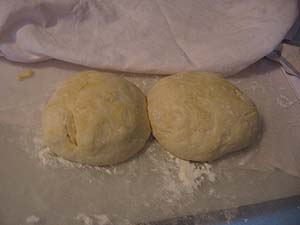 Freezing:
If you want to save all or some of the dough, at this point, take the dough you want to freeze and lightly dust it with flour and pop each one into a freezer bag. The recipe says it will keep in the freezer for about a month. To defrost, put it in the fridge about 8-10 hours before you want to use it. Then, let it sit at room temperature for about 15 minutes before shaping the crust. I haven't defrosted mine yet, but when I do, I'll give a recap as to how the frozen dough worked.
Using right away
To rise the dough right away (without freezing), put the dough balls on a lightly floured surface, cover them with a clean dishtowel, and let them rise until they almost double in size, about 45 minutes. Preheat the oven to 500 degrees (make sure your oven is clean or it may smoke). If your oven can't quite make it to 500 without complaining (smoking, shaking, etc…) try for 475-480 degrees.
Shaping the pizza
Put the ball of dough on a lightly floured wooden board. Sprinkle a little more flour on top of the ball. Using your fingertips, press the ball down into a flat cake about 1/2 inch thick.
Flour your fingers — and the board — for easier handling. Stretch the dough to a thickness of about 1/4 inch by using the backs of your hands or a rolling pin. Transfer dough to your lightly oiled baking sheet (or use a pizza peel then transfer to a baking stone in the oven after topping).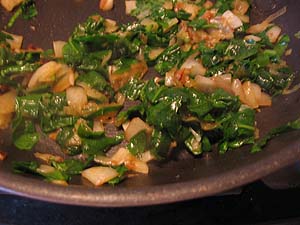 Garlic, onion and spinach sauteeing away.
Top the pizza
Well, just scatter the ingredients around to within 1/2 inch of the border. I brushed the surface all over with garlic olive oil, then used fresh basil leaves and then the sauteed spinach, green garlic, spring onion; tomato slices, mozzarella and little dollops of nicoise olive spread. Oh and a quick sprinkle of dried thyme.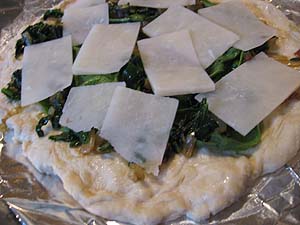 Everything was from the Farmer's Market except for the olive oil, basil and olive spread — not too bad!
Bake for 8-10 minutes at 500 degrees until the top gets golden and the crust puffs up a bit around the edges and turns a delicious, toasted color.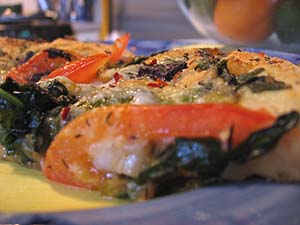 I made two small pizzas and froze the other two balls of dough, so there will be more pizza in the near future. Maybe we will start a Wednesday Night Farmer's Market Pizza tradition…