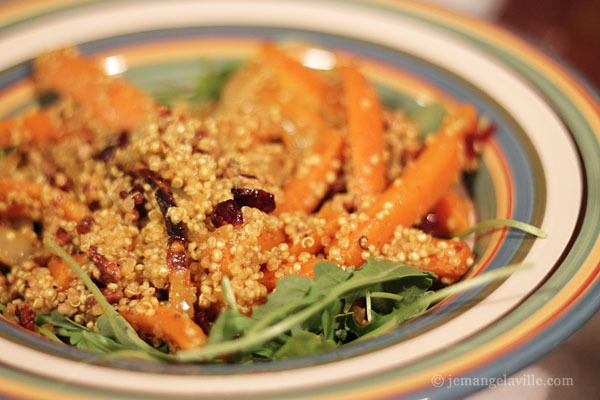 Quinoa is one of my favorite grains. I can't remember when I first tried it — I think maybe a couple of years ago? But ever since that first experience, I'm always looking for new ways to use it. I'm not quite sure what it is but I really like the texture and flavor — soft but still a bit toothsome, but with a slightly nutty flavor.
Tossed with spicy, roasted carrots, pecans, cranberries and peppery arugula, this is a great way to incorporate quinoa. There's also a good chance that all the spices needed for the spice mix are already in your cabinet so you really don't have an excuse to not give this a try. It may seem like a lot of work, but after you combine the spices together, you're basically just using it as a seasoning for roasting the carrots, flavoring the dressing, and mixing in with the final salad.
After I photographed this meal, I got the lightbulb-worthy idea to crumble some feta on top of the salad — you should definitely do that.
Also, we don't really stick to a Meatless Monday schedule, as we have a lot of . . . → Read More: Perfect for Meatless Monday: Roasted Carrot and Quinoa Salad