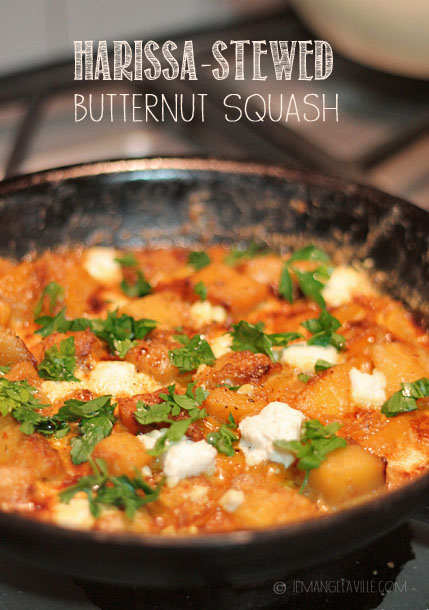 For Christmas, I received the Toro Bravo cookbook and although there are many pages ear-marked, this is the first recipe I've made from it. And I have to say, although I deviated a bit from the recipe (and took some shortcuts), this was delicious!
I did add some yellow bell pepper and (full disclosure) I used a bag of cubed Trader Joe's butternut squash (because I had some and I needed to use it). I can only imagine how awesome this would be with freshly cubed squash. If you use a big squash and you have more than 12 oz cubed, just use extra cream and harissa, or straight-up double the rest of the ingredients.
This is great on the side of some grilled fish or chicken. Or just add a huge salad and make it a vegetarian meal. Also, definitely get the book for the original recipe — it will be even better! (Spoiler: there's butter involved).
* Ingredient note: The original recipe calls for Rose Petal Harissa, which you can find at PastaWorks if you live in Portland. I used the Harissa paste in the yellow tube. That worked great, although, it is a bit . . . → Read More: Harissa-Stewed Butternut Squash