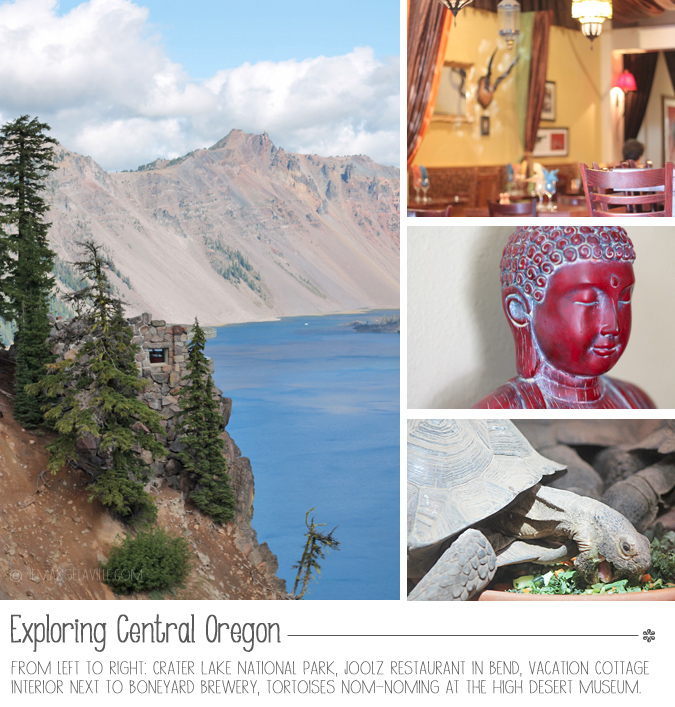 As I sometimes do, I'm posting about a trip taken months ago. In this case, Bend, Oregon and Crater Lake National Park from last October September…okay, wow — it was late August. The trip was certainly memorable and I took a lot of nice photos, so I'm not quite sure why I forgot to post about it. Glad I'm getting it up now, though!
We've been to Bend and Oregon's high desert a couple of times previously, but it has been a few years since our last visit (and we'd never been to Crater Lake before). For the trip planning, deciding where to stay was half of the fun – as always.
Bend Vacation Rental
We took a chance on the one bedroom cottage (right next door to the property at the link above) and ended up being very pleasantly surprised. The bathroom was amazingly spacious, with tons of shelves for toiletries and the whole place was designed with an artistic, world traveler-esque flair. All of this, plus a full kitchen and location right next door to Boneyard Brewery and within an easy walk to downtown Bend.
Crater Lake . . . → Read More: Central Oregon Travel: Bend & Crater Lake National Park