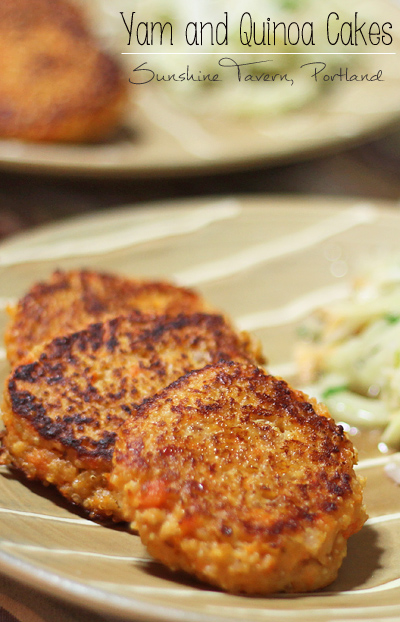 Sunshine Tavern
3111 SE Division Street
Portland Oregon 97202
Seeing that we live just a few blocks away, occasionally we will head out to Sunshine Tavern for pizza and burgers (and of course cocktails and maybe even some candied hazelnuts to start). This is just what happened last Tuesday when we ended up splitting the Garnet yam and quinoa cakes w fennel and almond as a snacky beginning to our meal. And wow – they were so good.
I'm always on the hunt for new quinoa/interesting whole grains recipes and this one definitely got my attention with the warm spices, creamy yam, and a fennel shallot salad on the side. I really wanted to try and reverse-engineer it at home but then I thought maybe I could try and get the actual recipe. It only took asking one contact and I got an email for Jenn Louis, Chef/Co-Owner of Sunshine Tavern. So I sent her a message, asked her for the recipe, and if I could post it here. She got back to me an hour or so later with the recipe. So cool!
This dish will work with either cooked, mashed garnet yam* . . . → Read More: Yam and Quinoa Cakes from Portland's Sunshine Tavern