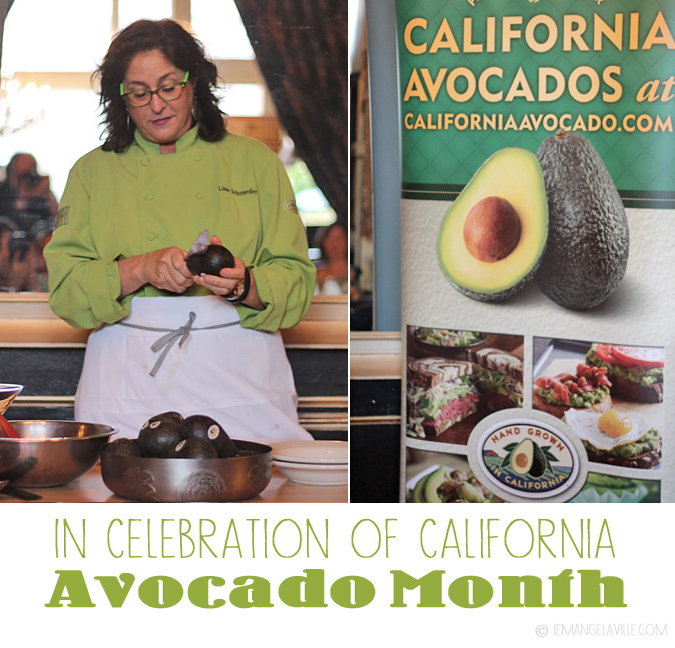 Last Thursday evening, I was invited to a California Avocado Dinner hosted by the California Avocado Commission at Mother's Bistro & Bar (212 SW Stark Street, Portland, Oregon 97204). Relatively-speaking, I am a bit of a new fan of avocados, having really just started liking them about 10 years ago.
Gateway avocado delivery system: guacamole, of course. But jwa is an avid lover of avocados from way back, so I brought him to the dinner with me!
After some avocado daiquiris, socializing, and delicious hors d'oeuvres, Chef Lisa Schroeder gave a demo for an Avocado, Pink Grapefruit, and Dungeness Crab Salad (See recipe below). We also got an amazing swag bag filled with all sorts of goodies to take home, including avocados and a signed copy of the Mother's Best cookbook at the end of the evening! Such a great time.
Thank you again California Avocado Commission and Mother's Bistro & Bar!
California Avocado Dinner, June 19, 2014

Lucy Brennan's Avocado Daiquiri

Avocado, Pink Grapefruit, a Dungeness Crab Cocktail

Guacamole-filled Cherry Tomatoes

Butter Lettuce, Avocado, & Green Onion Salad with Lemon Vinaigrette

Grilled Chicken Breast with Sauteed Onions, and Peppers, Topped with Avocado, and Salsa, served with Macaroni . . . → Read More: June is California Avocado Month!