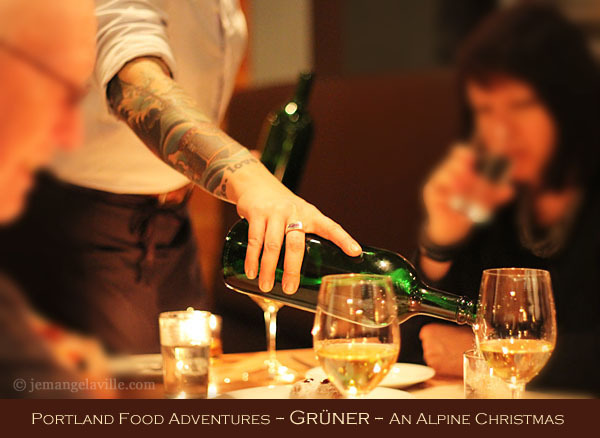 I have wanted to attend a Portland Food Adventures meal for the longest time. Way back in January 2012, I heard about the brunch at Broder but it was like at 10AM on New Year's Day and I just wasn't sure that would be practical or feasible. Not when the bed is so warm and the morning so cold.
I've kind of been waiting since then for one to pop up that I really, really wanted to attend and this one was it. Grüner! I love Grüner! And so we went.
* * * * * * * * * * * * * * * * *
The Menu:
Hors' d'oeuvres — beet-pickled deviled eggs, liptauer (house made cheese) with celery, radishes and pretzel croutons, fried fingerling potatoes with smoked trout and whipped crème fraîche. Wine: Pinot Blanc (Reichsgral Von Kesselstatt, Mosel 2011).
Salad — Winter greens, shaved radishes, toasted pumpkin seeds, cider vinigrette, Syrian Pumpkin seed oil, dill. Wine: Chardonnay (Vignoble Guillaume, Franche-Comte 2010).
Charcuterie — foie gras torchon, venison terrine, speck, salami, pickled persimmons, and cherries. Wine: Merlot (Elena Walch, Alto Adige 2009).
Buckwheat Spatzle — Riesling braised chicken, chanterelle mushrooms, crème fraîche, crisp shallots, . . . → Read More: Portland Food Adventures: Grüner