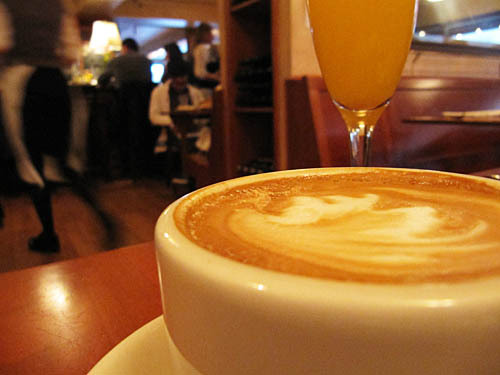 Latte at Cafe Campagne
We recently went to Seattle for a long weekend and to see the Picasso Exhibit at the Art Museum. We were also going to try and hit the Battlestar Galactica exhibit at the SciFi Museum but we didn't make it this trip. Perhaps that's an excuse to go back before it ends in March?
Anyway, we did go to:
Cafe Campagne
1600 Post Alley at Pine
Seattle, WA 98101
We ate breakfast here on a Sunday morning. Luckily, it was kind of early (10:00 am), so the wait was only about 30 minutes, which gave us some time to walk around the market a bit. The latte here was wonderful and so was my omelette and rosemary raisin brioche toast.
Hotel Max
620 Stewart Street
Seattle, WA 98101
Right downtown and we got a great rate and 1/2 priced parking ($15/day). The hallways are all gray and the doors have blown-up black and white photographs of musicians/album covers/stuff like that on them. The rooms were a little small, but honestly a little bigger than our bedroom at home (we have an old house) so it really didn't bother me at all!
Pike Place Market
1501 Pike Pl.
Seattle, WA 98101
Fun to walk around…crowded on . . . → Read More: Seattle!