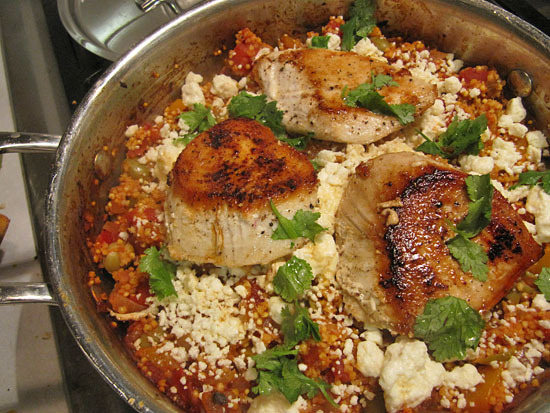 I am officially a huge fan of millet. This is the 2nd really great recipe I've made with this grain and it was delicious. I suppose if you don't have millet, you could use orzo or pearl couscous, but really, get some millet!
This is made in a few different steps, the millet is cooked separately, then stirred into the tomato and pepper mixture and then the fish is cooked in a different pan and added to the top.
The original recipe used shrimp, which would be great of course, but I had some frozen Ono* that I used (defrosted). Halibut or cod would also probably be delicious! Oh and I always thought saganaki was just the flaming cheese — apparently it refers to the actual frying pan that you maybe flame the cheese or say, cook tomatoes, peppers, olives and millet. Who knew? well, I guess I do now. Okay, carry on with the recipe.
Greek Millet Saganaki with Grilled Ono and Ouzo
Adapted from a recipe in Ancient Grains for Modern Meals by Maria Speck — a cookbook that is quickly becoming one of my favorites!
3 Tbsp olive oil (divided)
1 1/4 cups chicken or vegetable broth
3/4 cup millet
1 . . . → Read More: Greek Millet Saganaki with Grilled Ono and Ouzo