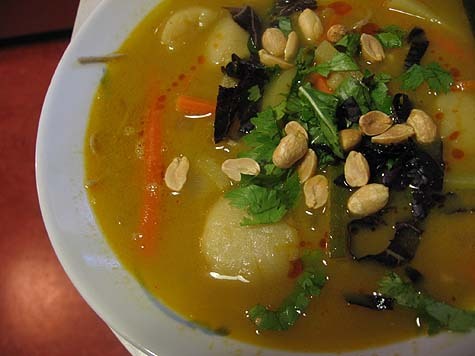 I like this recipe a lot because you can substitute with abandon. No fish stock? Use chicken or vegetable! No lime leaves? Use some zest. It continues on like that…I've made this once with all the right ingredients and once with a lot of substitutions and both turned out delicious. They didn't taste exactly the same but this is a recipe that lends itself (imho) to experimentation and variation. Also, jwa, who generally dislikes fish soups/stews loved this. That's high praise right there, people.
This last time I didn't have any lime leaves, green onions or lemongrass. My substitutions: strips of lime zest, a little lime juice, chopped white onion and two herbal lemongrass tea bags. Stash Lemon Blossom, to be exact.
Oh and also this is a great use of frozen scallops. Scallops are very expensive and you need the fresh, dry-packed ones to sear. This recipe is nice in that the scallops are cooked in the soup, no searing involved. So, if you find good frozen ones that you like (the Trader Joe's Wild Japanese Scallops have always been sweet and tender for me), this is a great budget scallop recipe!
Asian Scallop Soup
Adapted from a recipe . . . → Read More: Spicy & Satisfying Asian Scallop Soup