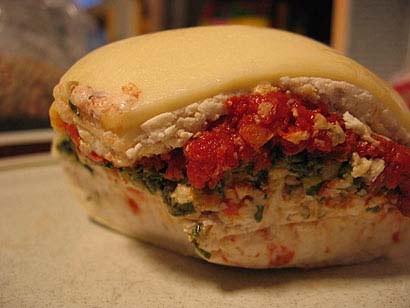 I'll start with the cheese ball, as that is usually the best place to begin. I have been telling my mom about the awesomeness of this cheeseball for about a year now, when I first made it last year before the holidays. This outing in Montana was the perfect opportunity to share in its greatness.
My aunt, who doesn't even like tomatoes, ate as much as everyone else.
Also, it looked much prettier than the title picture above. That's all that was left from the trip, the picture taken after the poor cheeseball had been in a cooler for 11.25 hours on the drive home. We put him to good use back in Portland.
Unfortunately, I did not take pictures of the cheeseball-making. Therefore, I will intersperse this post with pictures from the trip.
The Best Cheeseball Ever
Based on Paula Deen's Pesto Cheese Blossom recipe
1 (8-ounce) package sliced provolone cheese
2 (8-ounce) packages cream cheese, at room temperature
1/4 cup toasted walnuts (you could also use pistachios, pecans — really whatever nuts you like)
3 cloves garlic
1/4 cup Parmesan cheese
1 cup fresh basil leaves
1/2 cup pine nuts
1/4 teaspoon salt
1/4 teaspoon freshly ground pepper
2 tablespoons extra-virgin olive oil
1 3 oz pkg dried, sundried tomatoes
1 tsp . . . → Read More: The Awesome Cheeseball of Montana