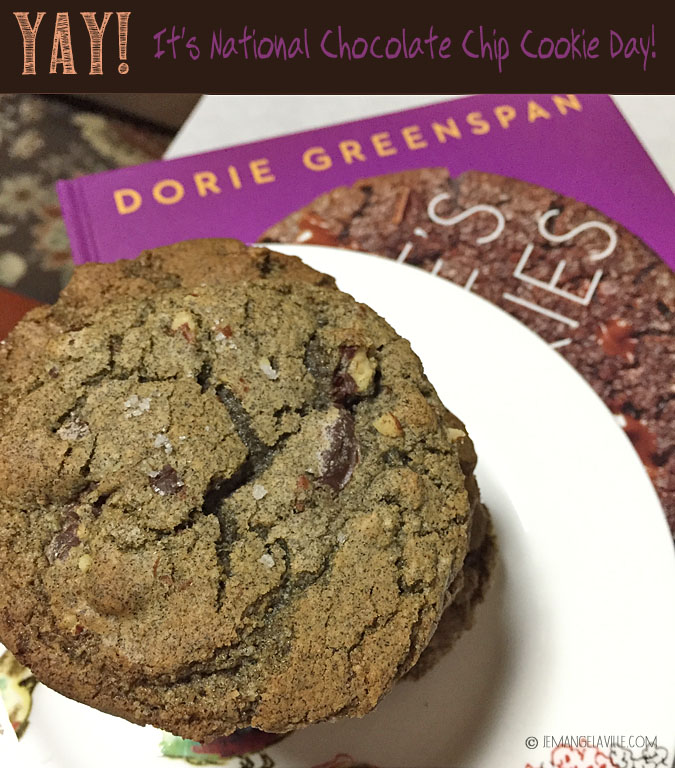 Really, what is better than a fresh gooey chocolate chip cookie straight out of the oven? Air conditioning? Well, yes. But…it's not the chocolate chip cookie's fault that August 4th is National Chocolate Chip Cookie Day! Do not blame the cookie if the weather is too hot to even think about turning on the oven.
That said, and as I write this on the 3rd, we're about to break records for the hottest day ever on Earth in the Pacific Northwest (108 degrees F in Portland), so let's think back to a cooler time–gentler time when I opened up my copy of Dorie's Cookies and found this amazing and alt chocolate chip cookie recipe.
Buckwheat flour! Whole wheat flour! A sprinkle of fleur de sel on top! They are healthy! Kind of…for cookies. In this version, I also added vanilla and I upped the nuts, as one tends to do if the occasion calls for it.
So, if you can safely turn on your oven, you might want to celebrate August 3rd by baking a batch of these wonderful and interesting chocolate chip cookies.
Spoiler: The cookie dough needs to chill in the refrigerator for at . . . → Read More: Kerrin's Multigrain Chocolate Chip Cookies