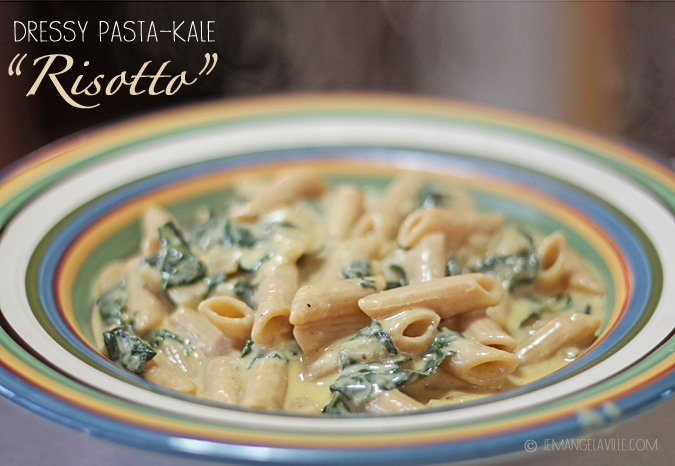 Everyone seems to have loved this week's French Fridays with Dorie recipe and I was no exception. Although, as someone who kind of feels like they over-indulged a bit during the holidays, I was not super enthusiastic about making a pasta dish filled with cream, cheese, and well…pasta. So, I changed it a bit.
The easiest swap was wheat pasta for the regular (a substitution that I make a lot), the second was skipping the cream – and not just because I was too lazy to go to the store. There's already marscapone cheese in there, so I thought that, along with the Parmesan would be enough to make it creamy. Not to mention that this pasta dish is cooked kind of like a risotto (hence the name) and the liquid is not drained, so the starchy pasta broth would help it all bind together as well.
I also added some chopped kale and a bit more cheese (hey! because I skipped the cream!) and I think it turned out fairly well. It's still extremely creamy, cheesy, and satisfying, if a little less French, I guess.
Here's a link to everyone's Dressy Pasta Risotto . . . → Read More: FFwD: Dressy Whole Wheat Pasta-Kale "Risotto"