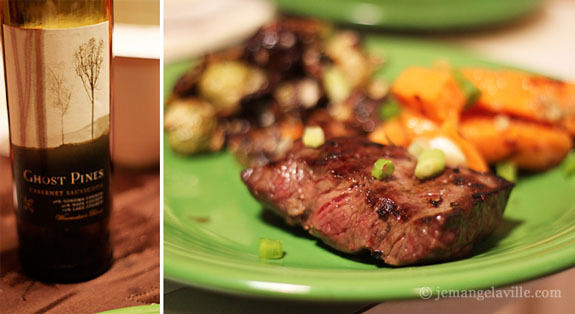 I just learned that December 5th (today) is Repeal Day! That's when Prohibition was repealed way back on December 5, 1933 after 13 long, sad years of no booze. Let's all rejoice and not only drink alcohol, but cook with it too. Hooray!
Are you in the mood for a steak? How about whiskey? Hey, here's an idea — how about we combine them into an awesome, red meaty meal? Really, you should do this because it was pretty satisfying. I am always looking for an excuse to try a steak recipe since, honestly, we don't eat red meat very often (2-3 times a month, if that). It's a steak adventure, if you will.
I am also happy to find a recipe that incorporates alcohol into food…because that is pretty fun. A little for the food, a little for the chef. But I digress. This is as good as it sounds (and looks) — a slightly sweet, complex glaze and tender, juicy, medium-rare meat. Roasted brussels sprouts on the side complete the plate.
Whiskey Glazed Flat Iron Steaks with Grilled Sweet Potatoes
Recipe adapted from Food Network
1/4 cup whiskey, I used Ransom's . . . → Read More: Whiskey Glazed Flat Iron Steaks with Grilled Sweet Potatoes