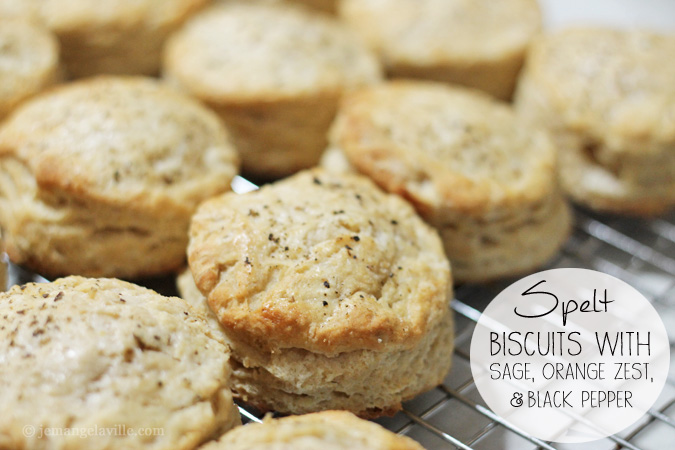 I have a new favorite baking product – and it is Spelt Flour. I'm not quite sure what it is about it, but everything I've baked with it just has a velvety, rich, full flavor that I am in love with. When using, I'll typically replace one half of the white flour in a recipe with the spelt flour. I have been experimenting with it for awhile now in pie/tart crusts, scones, cookies and now…biscuits!
For this recipe, instead of using half spelt flour and half regular flour, I used light spelt flour mixed with just a little unbleached, white flour. Light spelt flour has most of the bran and germ removed, so the end result won't be as heavy as using regular spelt flour. I wanted these biscuits to be on the fluffier side, so I decided to go this route.
The result was a flakey, flavorful biscuit! It may seem like there's a lot going on here (there is — sage, orange zest, black pepper) but it works.
Make a batch now to freeze for Thanksgiving or just use them for weekday breakfasts with orange marmalade or . . . → Read More: Spelt Biscuits with Sage, Orange Zest, and Black Pepper