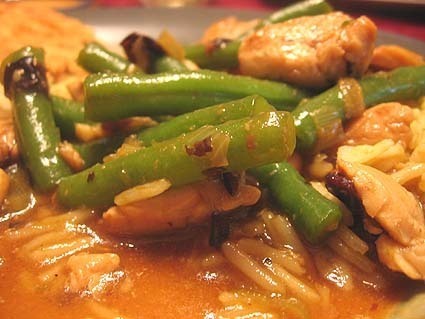 Well, hell. It's hot out again. And here I thought we were going to escape the Summer with sweet, sweet 70′s and sunny weather through the end. Nope. 101 103 degrees Friday and Saturday. Ick. Now's the time for the chilled pea soup. But Saturday I will try a new gazpacho recipe — that'll be fun.
Weather aside*, here's a really tasty dish we had last weekend, way back when it was reasonable out. Originally, it was shrimp and Chinese broccoli in the Gourmet Magazine version, but I sneakily changed that to chicken and green beans. Mahahahahahaha!, says Chef Evil.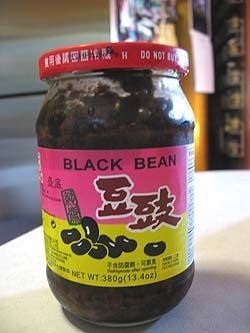 Anywhoooo, I found what I am 99% sure is fermented black beans at Uwajimaya. Please, no one tell me this is something else, because they were really good in this. Oh well, if they are some other kind of black bean product, this dish will just become Chicken and Green Beans with Mystery Jarred Black Beans from Uwajimaya. No biggie. But for now:
Printable Recipe pdf!
Chicken and Green Beans with Fermented Black Beans
3/4 cup reduced sodium chicken broth
3 tbsp Chinese rice wine (preferably Shaoxing) or medium-dry Sherry (I went the sherry route)
3 tsp light soy sauce
2 . . . → Read More: Chicken and Green Beans with Fermented Black Beans — It's a Beanapalooza!