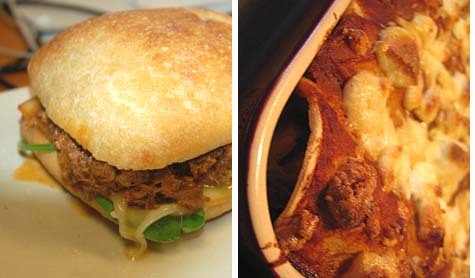 The main recipe here is originally from the Portland restaurant Meat Cheese Bread. It was in our local paper, in the weekly food section. I saw it, made Homer Simpson type sounds as I thought about how good it must be, and promptly decided to give it a try.
That said, I tweaked it a bit. Not so much for taste or anything, more due to what ingredients I had and the level of time on a Wednesday that I had to devote to this. Mainly, I crock-potted it while working, so that when I came home, the house would smell so good that I would almost fall over after stepping through the doorway.
One Saturday or Sunday, I will try this in the oven but it did work pretty well for me to turn it on low in the AM before leaving for work (7:00 AM) and return around 5:00 PM to a crock pot full of fragrant, porky goodness.
That said, this isn't a complete 'pop it in the crock pot and forget it' kind of thing. Well, okay, actually it is, but you need to do stuff before you get everything in the crock pot. Stuff . . . → Read More: Experiments in Pulled Pork — Sandwiches (and then Enchiladas)