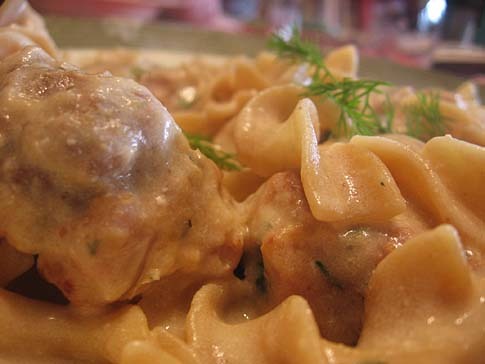 Facebook, not just for fake farms and stupid quizzes…
I went to grade school, junior high and then high school with someone who now works at NASA. I know, neat! We recently got back in touch via facebook and now I am contributing to a cookbook review he's working on. Not just any cookbook, but The Astronaut's Cookbook: Tales, Recipes, and More. I must admit that when he first asked me if I wanted to help review the book and cook a few of the recipes I was a little worried. My only previous experience with space food was the novelty packages of freeze dried Astronaut Ice Cream you could get at the Bay area Frys. (Edited to add: I kind of miss the San Jose Ancient Egypt-themed Frys).
But, it was okay as the cookbook was filled with pretty normal looking recipes. In fact, it seems that astronauts eat meals from the likes of Rachael Ray — Swedish Meatballs and Emeril — Kicked Up Bacon Cheese Mashed Potatoes. Hey! Astronauts are JUST LIKE US!
After perusing the book I decided on the Swedish Meatballs, Kidney Bean Burgers and special future brownies. Not all in the same meal.
Those . . . → Read More: Rachael Ray (and More) in Space: Part I