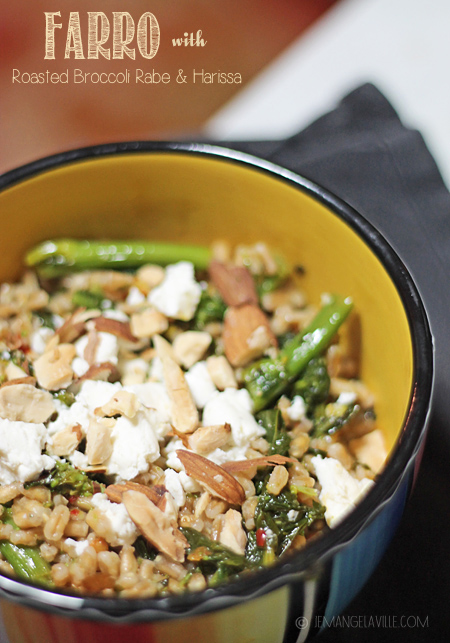 In writing an intro for this recipe, I was going to link to all of the other farro recipes I've made but then I realized that I've only posted about one other — Farrotto with Sausage, Sun-Dried Tomatoes and Saffron. Maybe I'm thinking of spelt? I do enjoy that whole grain a whole lot (see what I did there)?
So. Yeah. Farro. I have a HUGE container of it at home and I've decided it's time to start working my way through that. And a good option for that 2014 project is to use farro instead of pasta on occasion. Of course, farro is nothing like pasta and it will certainly be a different dish, but the results can be just as tasty. Take this roasted broccoli rabe recipe, for instance.
The grains of farro get plump and chewy and mix well with the still slightly-bitter rabe and spicy harissa. A little goat cheese on top adds some creaminess. Delicious! Roasted broccoli rabe gets a little crunchy in parts, almost like kale chips, so you do need to keep an eye on it while it's in the oven.
And while you can . . . → Read More: Farro with Roasted Broccoli Rabe & Harissa