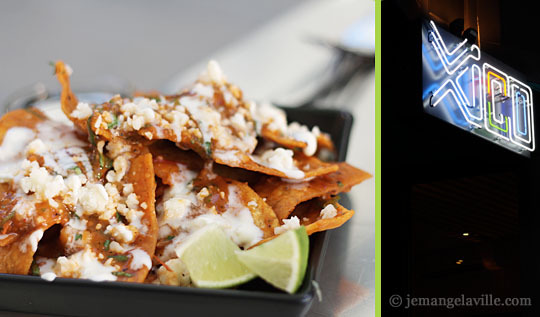 Yes, as you'll be able to tell from the photos here, we went to Xico early last month, back when there was this thing called…the sun, hanging bright in the sky. Even though it is all cold and rainy now, I suggest going to Xico and getting yourself a margarita — that will definitely lighten up the evening.
During our visit, we sat in the back patio area and enjoyed a very good meal. But really, the actual inside of the restaurant looked super cozy too. I'd imagine it will be a great place this fall and winter for a few drinks, enchiladas, quesadillas and other assorted Mexican dishes. The vibe is slightly upscale and authentic Mexican fare (sort of like Nuestra Cocina further down on Division) but Xico is a shorter walk for us in the rain, so that is a definite bonus. I liked it and would definitely go again.
They also have lunch and a lunch window. I think my new goal is to try a Sonoran hot dog (Grilled Nathan's all beef frank, bacon, salsa verde, eye-of-goat beans, cotija, crema, pico de gallo) one day very, very soon!
Xico
3715 SE Division . . . → Read More: Xico on SE Division