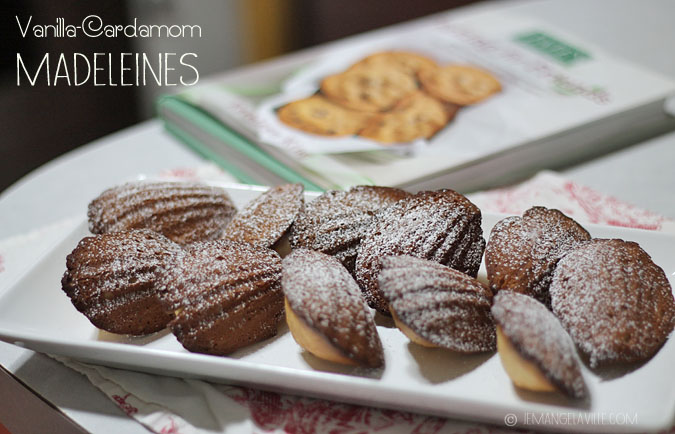 I was recently a participant in the Food Blogger Cookbook Swap, hosted by Alyssa of EverydayMaven and Faith of An Edible Mosiac. I sent a cookbook to a fellow food blogger and received a cookbook in return – Tate's Bake Shop: Baking for Friends from Lisa at Flour me with Love. Thanks, Lisa!
I'm trying to actually do more baking, so this was a wonderful surprise. And it also just so happens that I recently bought a madeleine pan, so even though I was tempted by a number of recipes in this cookbook, I knew that the madeleine recipe was the one to try.
The original Vanilla Madeleine recipe from the cookbook makes 24 madeleines, which I wanted to half, so I could just make one pan of 12 cookies. But of course, there was the tricky 3-egg dilemma. How to half that easily — actually crack a second egg and use just half of that? Use one egg plus an egg white? Only use one egg and hope that one egg is un oeuf? (See what I did there)?
Then I remembered my most favorite cake in the whole . . . → Read More: Food Blogger Cookbook Swap: Vanilla-Cardamom Madeleines & Tate's Bake Shop Baking for Friends