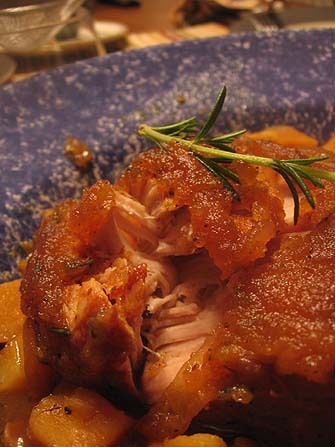 This was super good and appropriately Fall-ish. Originally, the recipe called for parsnips and turnips, but I changed the turnips to sweet potatoes. I also added some garlic cloves. I would think you could use any root vegetables you wanted to — potatoes, carrots, rutabagas, etc…
And, I finally mixed up some of this Essence seasoning mix stuff. I used teaspoons instead of tablespoons, though. So, yeah, this is an Emeril recipe. At first, jwa was skeptical, as he is of all things that come out of a crockpot. But, in the end, he was won over. Sweet, succulent pork will do that. Epic win.
My pork loin was on the smaller side (about 2 pounds). Didn't seem to make any difference. Enough for dinner and lunches later in the week.
Applesauce and Sage Glazed Pork Loin with Sweet Potatoes & Parsnips
1 tbsp olive oil
2 1/2 to 3 pound boneless pork loin
1 medium white onion, chopped
Kosher salt & black pepper
1 tsp Essence, recipe follows
1 1/4 tsp fresh cracked black pepper
1 cup chicken stock
2 medium parsnips, diced
2 medium sweet potatoes, diced
6-8 cloves of garlic, peeled
1/2 cup applesauce
1/2 cup light brown sugar
2 tbsp apple cider vinegar
1 tbsp chopped fresh sage leaves (or . . . → Read More: Applesauce and Sage Glazed Pork Loin with Sweet Potatoes & Parsnips