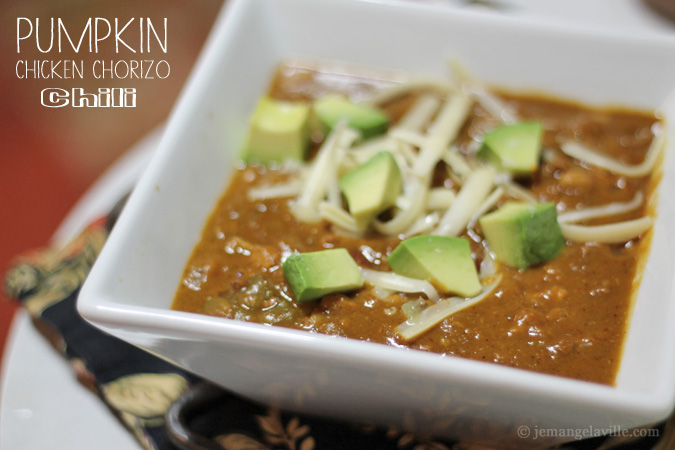 Well, I hope everyone had a great Thanksgiving! Do you have an extra can of pumpkin puree? Want something delicious to do with it? Well, read on.
This is honestly one of the best things I have ever made in my slow cooker. Seriously. And of course, this is exactly the time of year that everyone has a can of pumpkin puree in their cabinet, pumpkin puree stored in the freezer, or can easily go get a can at the store. After making this, you may just start stocking up on some year-round. If you didn't know there were no tomatoes in this chili, you probably wouldn't be able to tell. Eight hours and the canned pumpkin and all of the other ingredients do something rather magical together. jwa doesn't even like chili and he loves this chili.
I find the chorizo adds enough heat for me, but you may want more. If so, just serve with some hot sauce.
And like a lot of chili recipes, this one has a secret ingredient – smoked chocolate chips. In the recipe below, I just listed bittersweet chocolate chips, but if you are feeling extra ambitious or . . . → Read More: Slow Cooker Pumpkin Chicken Chorizo Chili