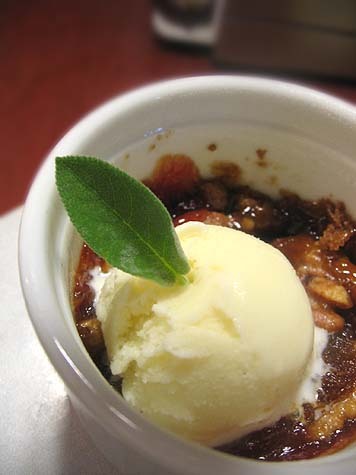 Oh my this was good. I messed around with the recipe a bit, mainly I made a 1/2 recipe of the rhubarb and a full recipe of the topping! Mahahahahaha — (that was an evil laugh).
I only had two rhubarb pieces which weighed 12 oz. That was my main reason for making a half recipe. But when I got it all mixed up, I found that I could just fill up 4 ramekins. So, I figured I would need almost all the crumbly topping of the original recipe. Right? Yes, exactly.
Recipe below is the full recipe, halve, double or quadruple as needed.
Rhubarb Crisp w/ Crunchy, Crumbly Walnut Topping
Adapted from Bon Appétit magazine
Rhubarb
24 ounces fresh rhubarb, trimmed, cut into 1/2-inch pieces (about 5 cups) — this is about 4 pieces
2/3 cup sugar
2 tbsp all purpose flour
1 tbsp unsalted butter, melted
1/2 tsp grated orange peel
1/2 tsp ground cinnamon
1/2 tsp vanilla extract
Crumbly, Crumbly Topping
2/3 cup (packed) golden brown sugar
1/3 cup chopped toasted walnuts
1/4 cup all purpose flour
1/2 tsp cinnamon
2 tbsp unsalted butter, melted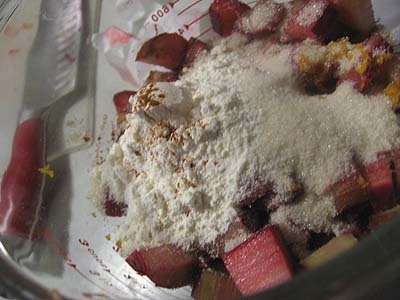 Preheat oven to 375 degrees F. Mix all rhubarb ingredients in large bowl to combine. Divide mixture among four to six 1-cup . . . → Read More: Rhubarb Crisp with Sage, Rosemary & Thyme Ice Milk