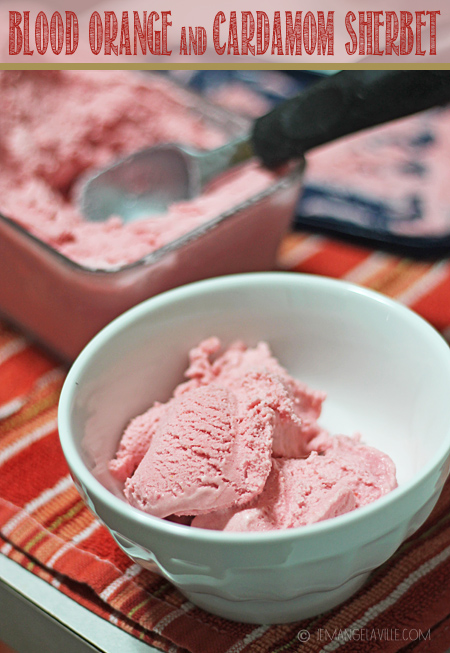 I tend to neglect my ice cream maker with a fair amount of frequency. It's stored out in the garage freezer, so it's not like I see it all the time to help remind me. Plus, it seems like some of my previous ice cream/sorbet experiments have not blown me away.
Enter this Blood Orange and Cardamom Sherbet…Blown away!
So creamy, pretty much ice crystal free, and a not too sweet, but with a totally dessert-like flavor. And such a pretty pink color. It reminds me slightly of my beloved, gone-but-not-forgotten Grapefruit Sorbetto at Cafe Pallino. I think I am going to try sherbets more often (mostly fruit juice, but also with cream), or at least make more custard-less style ice creams. I seem to have more luck with those types — in terms of texture. Luckily, all of my ice cream maker experiments have tasted delicious.
For this, I used Penzey's cardamom seeds but Savory Spice Shop also carries them. You could just as easily use 4-5 cardamom pods, smashed, to steep with the cream. Or, if you have neither, skip it all together and go for more of a Blood Orange Creamsicle . . . → Read More: Blood Orange and Cardamom Sherbet