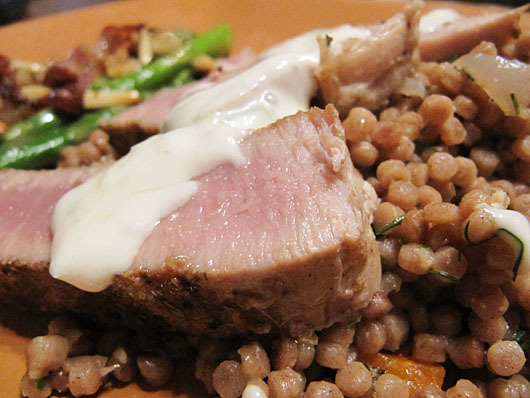 I think this is one of my new favorite tuna meals. It can be served warm or cold, making it a perfect meal year-round. Since we are still a little cold out, I opted for warm, but you could just as easily making everything earlier in the day (up to actually slicing the tuna), refrigerate it and just plate it all before eating.
One other change that I made was to use Whole Wheat Pearl (Israeli) Couscous instead of regular couscous. If you do this, the cooking time will be a little longer, just follow the instructions on the package, but you'll probably have to simmer it all for about 15-20 minutes.
Also tuna and fennel? Wow, such a wonderful combination. I even made this with some frozen, Trader Joes's wild Ahi Tuna (I popped it in the fridge the night before to defrost). Really good and the price makes this an official "cheap fish project" meal. Hooray!
We had a little tuna leftover (I started with about a pound of tuna), so I tossed that with some whole wheat pasta, some sauteed broccolini and olive oil/lemon juice for lunch the next day.
Fennel Crusted Tuna with Lemon . . . → Read More: Fennel-Crusted Tuna with Lemon Aïoli Over Couscous