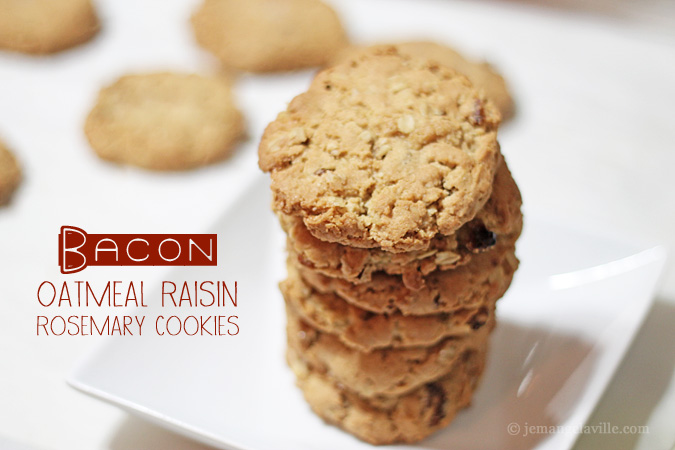 You could certainly ask, "Why would you put bacon in a cookie?" And I would respond with, "Why not?"
I'm not a huge bacon-for-bacon's-sake type of person but when I came across a recipe for Bacon Oatmeal Cookies, I was a bit intrigued. And on a recent cold, rainy day I decided to experiment a bit and try it out. Conclusion: while this certainly won't replace a traditional, spiced, oatmeal raisin cookie, I think these are worthy of a batch or two – not quite a novelty, but not an instant, all-time favorite cookie (that's chocolate chip, of course). But definitely bring them to a holiday party or a dinner for a unique snack.
I first saw this recipe on the Hot Cakes Bakery site – they sell the cookies but also linked to a recipe in Bon Appétit magazine, which I adapted below. Yes, I did cut down the bacon a bit, but I think it works well as a accent flavor, not a multiple-bacon-pieces-in-every-bite kind of thing. The resulting cookie was crisp, but with chewy raisins, a bit of smoke from the bacon, and a hint of rosemary flavor throughout.
Also, just . . . → Read More: Bacon Oatmeal Raisin Rosemary Cookies