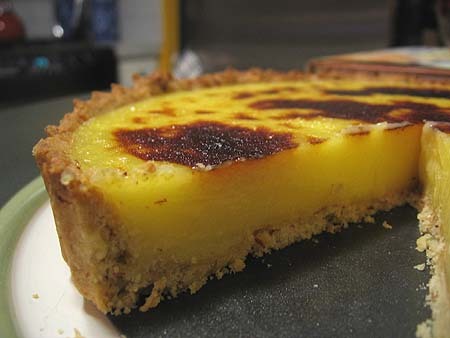 Okay, I guess all good things must come to an end. Weekend Cookbook Challenge being no exception. Thanks Sara for creating and managing such a fun food blogging event for the last 37 months! Wow, I guess it has been along time! Sara rocks big time.
This month's theme for February is "love". This recipe is something I made for dessert on Valentine's Day, so I think it fits. Tarte au Citron. It's from the cookbook, Bouchon, by Thomas Keller. I really want to add an ! on the end of that for some reason… Bouchon!
My tart pan is only 8 inches. So, I decided to make a half recipe of the crust and see what happened. It worked for me. I ended up dividing the crust dough in half (instead of thirds) and froze one. The full recipe of saybayon filled my tart shell fine. If you have a standard-sized tart pan, just do what it says below for a full recipe of the tart dough. Oh and if pine nuts are not in your budget, almonds will work. I used half almonds and half pine nuts in my crust.
And, yeah, I have tons of pictures here. . . . → Read More: WCC 37: Lemon Tart Love