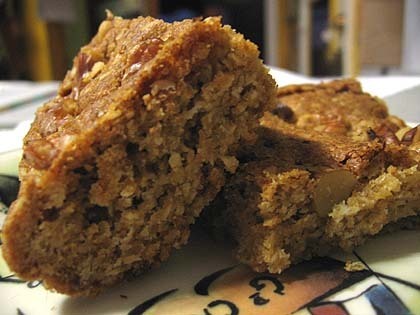 The other day I was tempted at the checkout by the latest issue of "Everyday Food." I used to have a subscription but then I forgot to renew and now I only get the magazine, well, when I'm tempted at the checkout.
This month, there's a big tostada on the cover. Okay, you are coming home with me! But inside, there was an article on baking mix (recipe below) and all the wonderful things you can bake with it. One of these things is Oatmeal Blondies, which I made. They turned out really good. The whole pan was gone in a day and a half.
The only challenging part was that I got halfway through making the recipe and realized that I didn't have enough oatmeal. I had about a 1/2 cup and I needed 3/4 cup (well, the recipe says 1 cup, with a 1/4 of that for the top. I was going to use walnuts, so really, I was only short about 1/4 cup).
After sighing, and looking around and not wanting to go out I…..I…..used a packet of Trader Joe's Blueberry Instant Oatmeal for the missing 1/4 cup.
::ducks::
Yeah, that's what I said! And it turned . . . → Read More: Oatmeal Blondies…Hey…Where's All the Oatmeal? Seriously, This is All I Have?