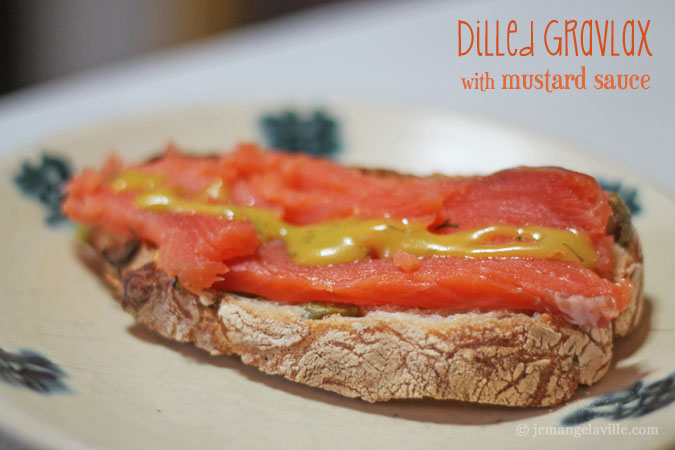 A little late, but it's still Friday here on the west coast, so I'm just getting this posted under the wire. This week's French Fridays with Dorie was quite the experiment – Dilled Gravlax. I want to say that I've made gravlax once before, but now I can't find a post on that so maybe I'm just imagining it. Maybe I dreamed it. Or maybe that was in a parallel universe (pardon me, but we're working our way through Fringe on Netflix right now and it's all red vines, parallel universes, and Walter-without-pants-on over here).
So, where was I? Oh yeah – gravalx. I made mine with some previously frozen Columbia River salmon. And here's something I learned at IFBC this year: if you're going to eat raw salmon (which gravlax basically is), it needs to have been frozen and defrosted. Or else there can be parasites (hey! Like on Fringe).
I made mine pretty much exactly as Dorie's recipe dictated, which can also be found here: Dilled Gravlax with Mustard Sauce, Bon Appétit | March 2004.
After three days of curing, we ended up having this as a snack the day after Christmas, it was really, really good! Loved the coriander flavor.
Now, let's see how everyone's gravlax turned out at the links here. And like all the French Fridays with Dorie posts, this recipe is in the cookbook, Around My French Table by Dorie Greenspan.