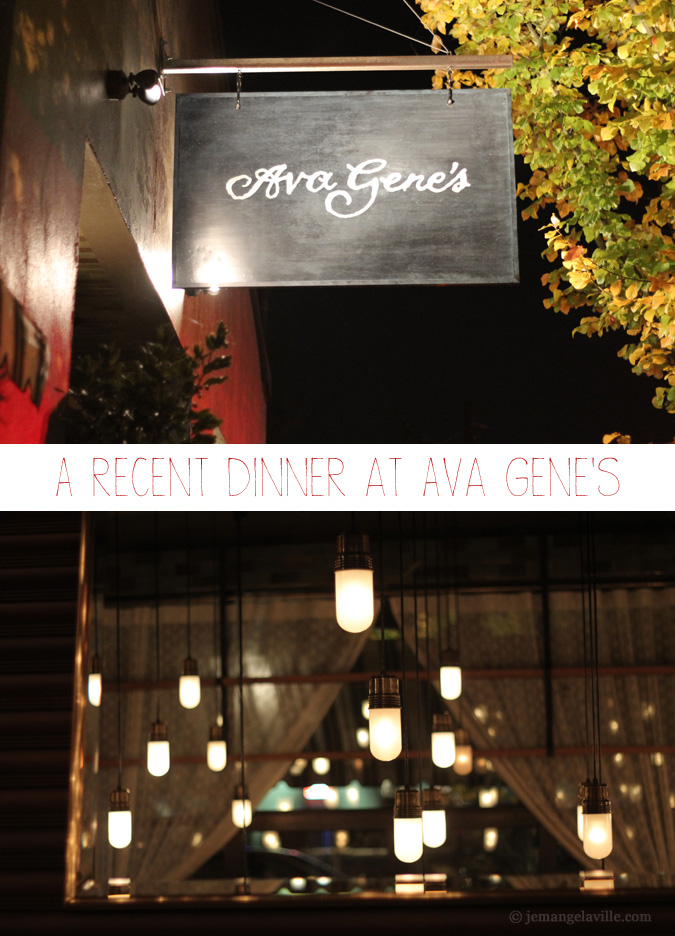 Ava Gene's
3377 SE Division Street
Portland, OR 97202
So, Ava Gene's has been open about a year, which means it's right on schedule for us to have tried it for the first time. Hint: my husband and I are not really timely. The restaurant has even gotten national mentions, like when Bon Appétit magazine named it the "#5 Best New Restaurant in America 2013." And honestly, when we went, I was all ready to think it was over-hyped, but…damn!
I'm not going to go so far as to say that it's I think it's the best restaurant in Portland (because, I'm not really sure what restaurant I think is that), but I will say that we had an amazing meal and that I really enjoyed everything that we tried. It was also very easy to share plates — in fact, it seemed like most tables around us were employing that strategy as well.
The menu is organized into sections: Salumi & Formaggi (cured meat and cheese), Fritti (fried items), Pane (bread – think bruschetta-type plates), Giardini (Salads/vegetables), Primi (the pasta course), and Secondi (the meat course). There are also sides and desserts, of course.
During the meal, we were able to try coppa from Brooklyn and fiscalini (a sharp, cheddar-like cheese) from Modesto. Then flash fried cauliflower and brussels sprouts, with lemon, chiles, and tonnato (a tuna aioli-type sauce), followed by borlotti beans, garlic, and rosemary slathered over toasted bread, then a creamy salad of pear, fennel, pine nuts, colatura, and scallions. Our pasta choice was fusilloni, with pork sausage, kale pesto, and whipped ricotta to stir in, with a big plate of wagyu culotte, broccoli, and chanterelles at the same time. To finish, we split a dish of biscotti cookie dough and pistachio gelato.
Every single course was delicious! And seriously, I can not stop thinking of the bread with the borlotti beans. Like, I have dreamed about that dish, can't-stop-thinking-about-it.
As I tend to, I took a lot of photos during our meal and although the light wasn't the best, I thought I got some nice shots of what we eagerly devoured.
Next time we go, I think we can easily skip dessert (not that it wasn't good, we just didn't really need it) — especially when you get a cookie with the after dinner cappuccino.