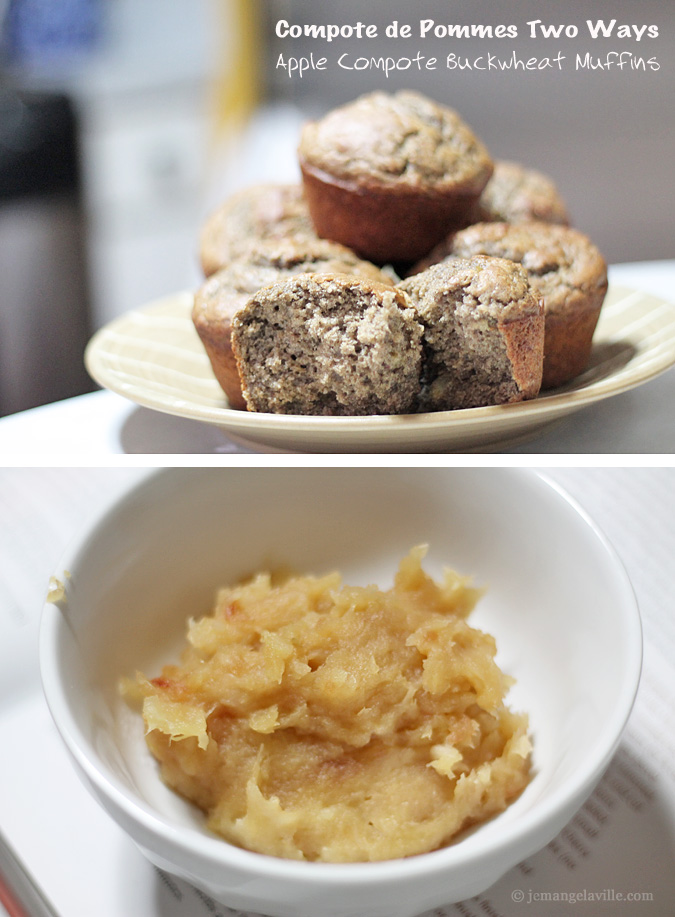 This week's French Fridays with Dorie is Apple Compote Two Ways or as the French would say half of it, Compote de Pommes Two Ways. I made mine the second way — basically I kept cooking it until it was super think. Then added some butter. I was expecting something like dark apple butter, but it was really just more like thick applesauce. And unfortunately, I'm not a huge fan of applesauce. So, I decided to use it to make muffins, which is something I typically do when I have applesauce around.
Notes: I did make a half recipe, so I used three apples. Empire apples to be specific. And, also because I knocked this one and next week's Chestnut and Pear Soup out at the same time, I had a little extra rosemary and put a small sprig in with the apples for the initial cooking time. The half recipe gave me a bit more than a half cup of apple compote.
Here's a link to everyone's apple compote posts and my photos (and the muffin recipe) below.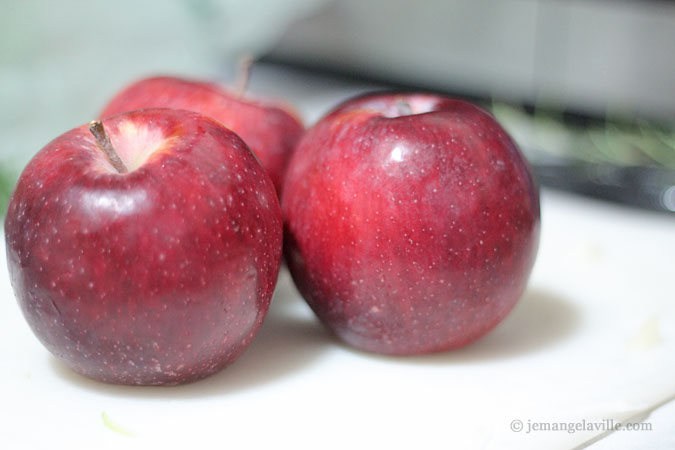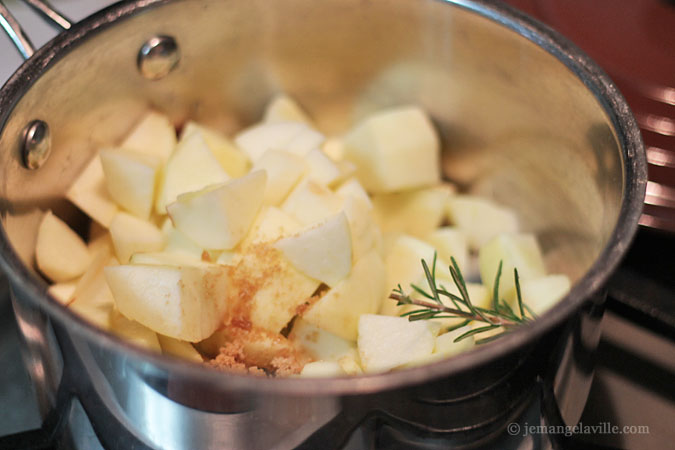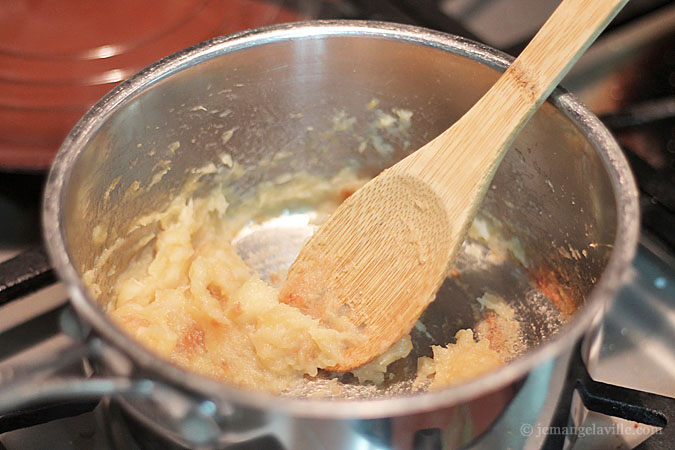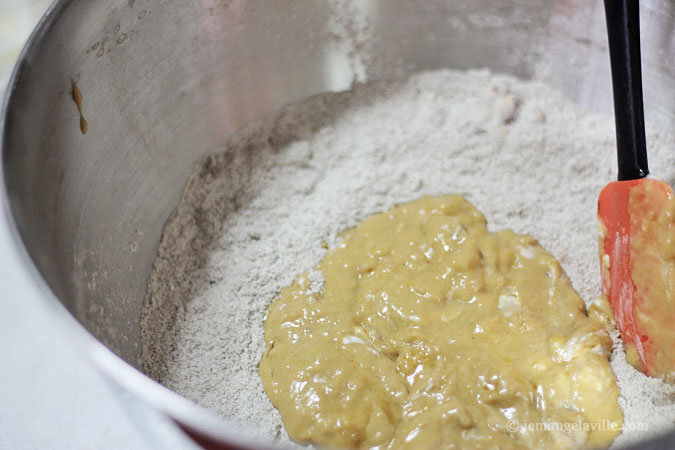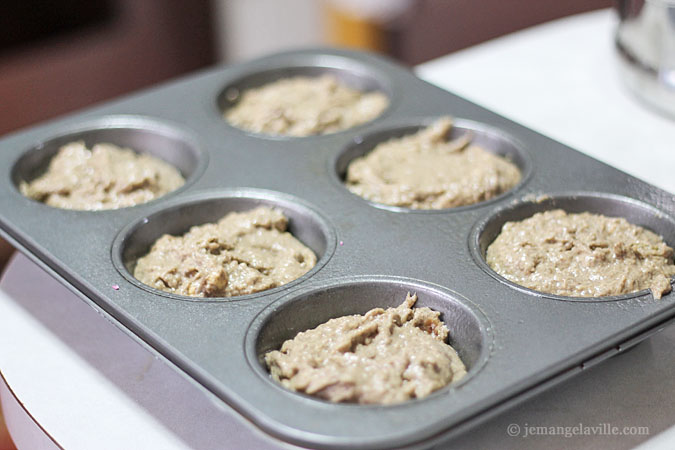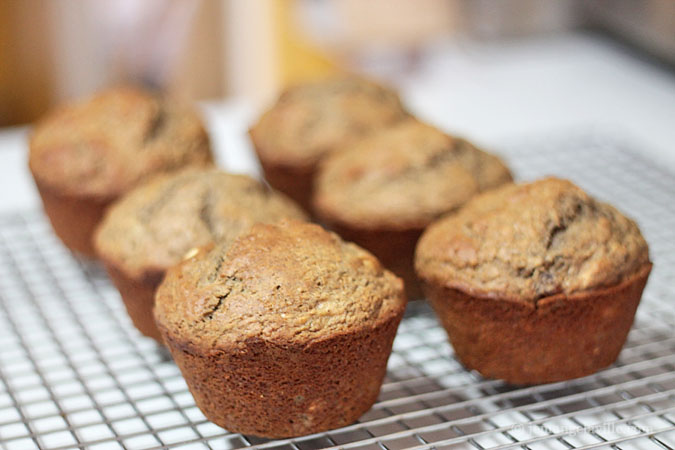 Apple Compote Buckwheat Muffins with Hazelnuts, Raisins, and Molasses
Adapted quite a bit from a recipe from Williams-Sonoma; makes 6 muffins.
1-2/3 cups AP Flour
1/3 cup Buckwheat Flour
1/2 cup roasted & chopped Hazelnuts*
1/4 cup Golden Raisins
1/3 cup Sugar
2 tsp Baking Powder
1/2 tsp Baking Soda
1/2 tsp Kosher Salt
2 tsp Pumpkin Pie Spice (or 1-1/2 tsp ground Cinnamon and 1/2 tsp ground Allspice)
1/2 heaping cup Apple Compote or (lightly sweetened) Applesauce
1/2 cup low-fat Greek Yogurt
2 Tbsp Molasses
1/4 cup Olive Oil
1 Egg
1/4 cup Milk (can be fat-free)
Preheat oven to 350 degrees F. Spray 6 jumbo muffin cups with non-stick spray, set aside. In a bowl, whisk together the flours, hazelnuts, raisins, sugar, baking powder, baking soda, salt, and spices.
In another bowl or large measuring cup, whisk together the applesauce (or compote), yogurt, molasses, olive oil, egg, and milk until smooth. Make a well in the center of the flour mixture and stir in the applesauce mixture just until evenly moistened. The batter will be thick, but if it seems too thick, you can add a bit more milk (whether you need to add more milk will mainly depend on how thick your applesauce or apple compote is).
Spoon the batter into the prepared muffin cups and bake until the muffins are golden, and a toothpick inserted into the center comes out clean, about 25 to 30 minutes. Transfer the pan to a wire rack and let cool for 5 minutes.
* If your hazelnuts are un-roasted, and still have the brown papery skin on them, toast in a 350 degree F oven for about 8-10 minutes, let cool briefly, and then put in a kitchen towel and rub together. This should remove a lot of the brown covering the nuts. Then, chop and proceed with the reicpe.