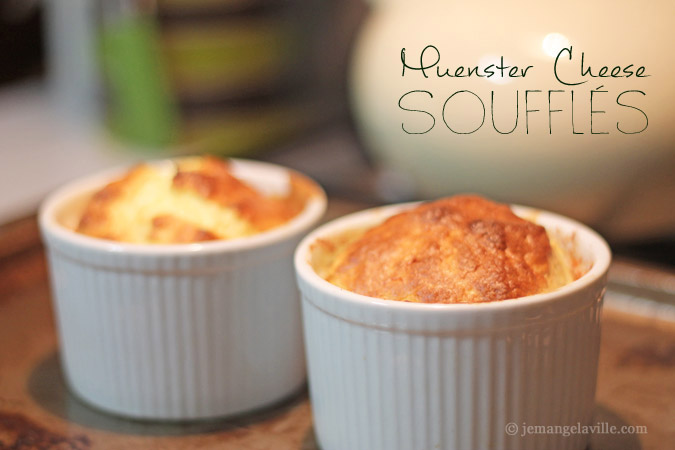 This French Fridays with Dorie post is late. I had meant to bake these soufflés Thursday night for dinner, but then when jwa came home, he was all, "Let's go out. Oh, and I've already had about four eggs today." So, yeah, more eggs didn't sound like a great idea and I am always easily able to be talked into going out to eat. So, I covered the unbaked soufflés with plastic wrap, popped them in the fridge, and was prepared to hope for the best.
Notes:
1. A 2-3 hour rest in the fridge is not the end of the world. I baked two soufflés when we got home (just in case they were completely hosed in the am) and they seemed to rise fine. Of course, after baking and cooling to room temperature, they went back in the fridge. The two soufflés I baked Friday morning, while still tasty, did not rise as much. Science!
2. I love cumin, so I loved the cumin flavor in these souffles.
3. My muenster was not fancy, French muenster, but normal, everyday, run-of-the-mill muenster. This is one of the reasons I didn't feel too bad about not baking them right when I had planned on doing it.
4. Dinner was at Block and Tackle and it was super good. I had the Pan-seared Black Cod with creamed leeks and Yukon Gold potato confit. Plus Salt and Pepper Calamari. Mmmmmmmm! More on that in a different post.
Okay, photos below and here is a link to all the other Doristas that baked their souffles correctly!