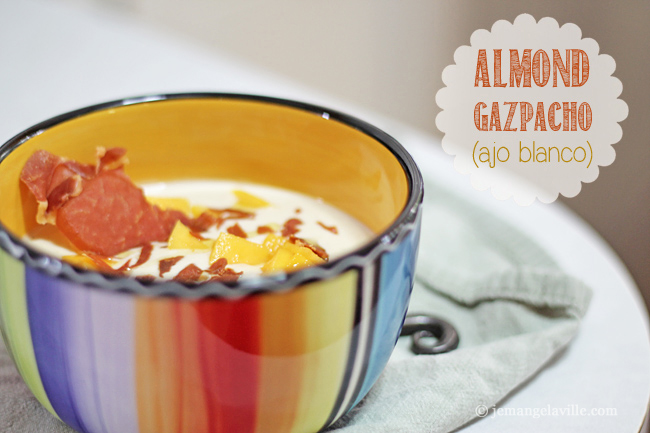 Wow, I can't ever remember a summer in Portland being so humid. Because of that (and also just because I love — LOVE– fall), I seriously can't wait for the weather to get colder. Until then, there's gazpacho. Yes, it's usually made with tomatoes, cucumber, and peppers, and while that version is completely delicious, there's something to be aid about the version with bread, almonds, and garlic. And that something is, Mmmmm.
You can use plain old white bread, but if you live by a Trader Joe's you may want to get a loaf of the round, small rosemary bread and use that. Or just add some rosemary leaves while blending. While not exactly traditional, the flavor of that herb is really good in this gazpacho.
Green grapes are the typical garnish, but I found diced mango or grilled fig halves to be just as tasty. Also, some crumbled, crisp prosciutto, using this recipe.
The gazpacho recipe is from one of my most favorite cookbooks of all time — The New Spanish Table by Anya von Bremzen. If you don't have it, I highly recommend it. I have made so many amazing recipes from it: Roast Halibut in Red Bell Pepper Broth, Garlic Chicken, Grilled Chicken with Fresh Fig Salsita, Potato Soup with Fried Almonds & Garlic, and Spanish Lemon Chicken with Honey and Saffron to name just a few.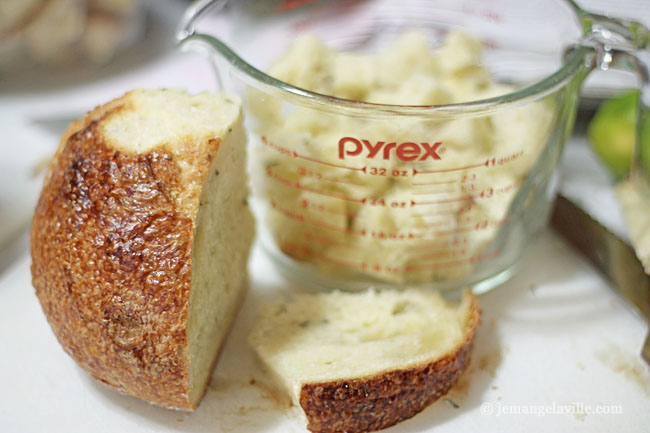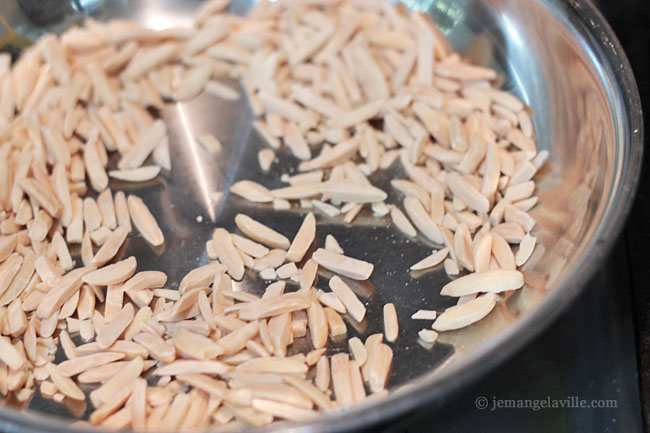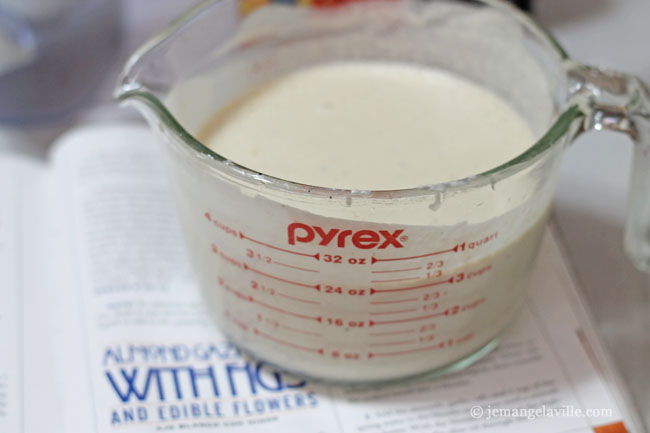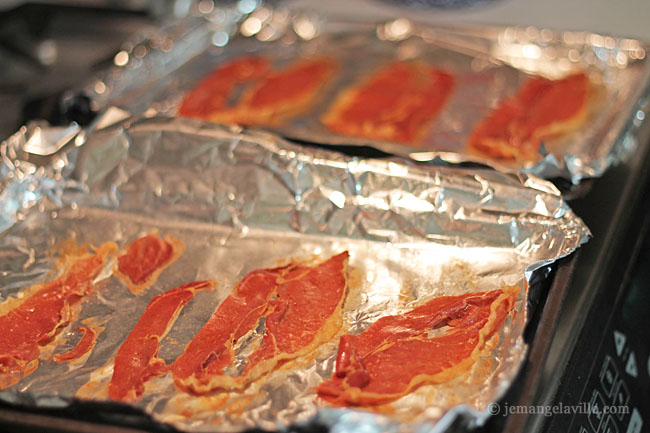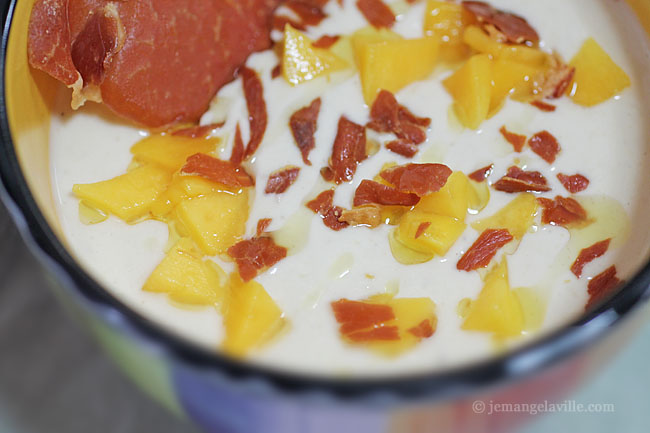 Almond Gazpacho (Ajo Blanco)
Adapted from a recipe in The New Spanish Table by Anya von Bremzen. Serves 4-6.
2-1/2 cups cubed bread, from a baguette or loaf (crusts removed) Recommended: Trader Joe's Rosemary Bread
1 cup blanched, slivered almonds
2 medium-sized garlic cloves, peeled
1/2 teaspoon salt
1 1/2 cups water
1/3 cup extra-virgin olive oil
2 Tbsp sherry vinegar
Garnishes: Diced mango or green grapes, crispy prosciutto
Soak the bread in water to cover for 5-10 minutes. Drain and squeeze out excess liquid. Place the bread into a blender. In a pan over medium heat, toast the almonds for a couple of minutes, until golden in spots. Add to blender with the bread, along with the salt and garlic, and 1 cup of the water. Blend until you get a smooth paste.
With blender running at high speed, pour the olive oil in a steady stream until emulsified, then add the sherry vinegar and remaining half cup of water. Pour mixture into a pitcher or large measuring cup and mix in vinegar. Add remaining 1/2 cup of water– it should have the consistency of thick cream. Adjust vinegar and add salt and pepper to taste. Chill for at least 2 hours. Serve in bowls with halved green grapes or diced mango, and crispy prosciutto as a garnish. Also, and extra drizzle or two of olive oil on top is nice.