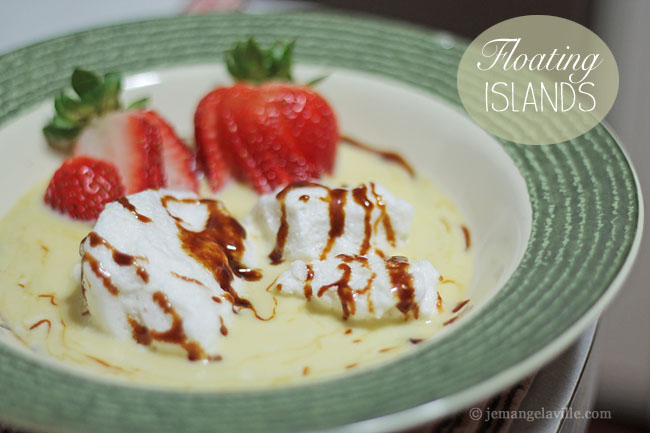 This week's French Fridays with Dorie is a strange (at least strange to me) little dessert called Floating Islands. There are little meringue islands, "floating" in crème anglaise, then drizzled with caramel sauce. I added a couple of strawberries because I thought it needed a little color (and healthy fruit).
Notes:
1. It is way too hot and humid to make meringue. Why is Portland humid? We are never this humid. This is horrible.
2. I did the bonne idée and poached my meringue in milk. Mainly because I wanted to make a half recipe and I didn't have a small springform pan and it was too hot and humid to bake. Also, apparently, there is no way to make a photo of meringue poaching in milk look appealing.
3. I did not make caramel. For my birthday last year, I got some amazing Hot Cakes Salted Caramel Sauce (and Smoked Chocolate Chips) as a gift, and I have been using this caramel instead of making my own whenever I need caramel (more often than you would think). It is so delicious! I want to pick more up when I am in Seattle next month for IFBC!
4. I thought these were pretty good. This recipe had a lot of steps for a dessert and I'm not sure I would make it again for that reason, but both jwa and I liked it!
Okay, links to everyone's lovely floating islands posts and my photos below.