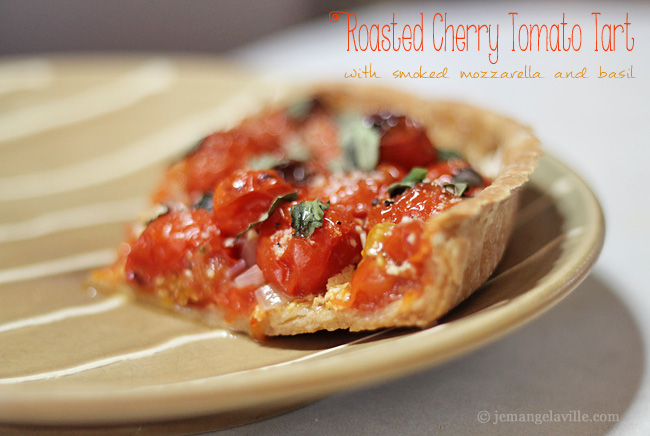 Hello summer! This is one of the best savory tarts I have ever made. That may be because all of the cherry tomatoes were from our garden or it may be because tomatoes, smoked mozzarella, and basil is a winning combination – probably a bit of both! If you don't have your own garden supply of tomatoes, multicolored, heirloom cherry tomatoes would look amazing in this recipe.
Our tomatoes were so ripe that some actually split while they were picked. I think this led to me having an abundance of liquid after baking. This really wasn't a problem because after cooling for about an hour with some sprinkled Parmesan on top it seemed that the cheese had soaked up some liquid. Perfect!
For this recipe, you can use any crust you like but I highly recommend Chocolate and Zucchini's Easy Olive Oil Tart Crust, which is seriously my go-to savory pie/tart/quiche crust of choice. This time I used a mix of light spelt flour, whole wheat pastry flour, and white flour to great success!
I'm also not ashamed to admit that two of us polished this off for dinner one night (although, you can probably expect to get four servings). It was so good — smoky, salty, sweet, cheesy, herb-y. Plus, with the olive oil crust, you're only eating 2 tbsp of olive oil each, rather than, say, a half a stick of butter if you accidentally just split the whole tart in half. So, uh…it's healthy!
On the side we had a lemony spinach salad with roasted potato croutons.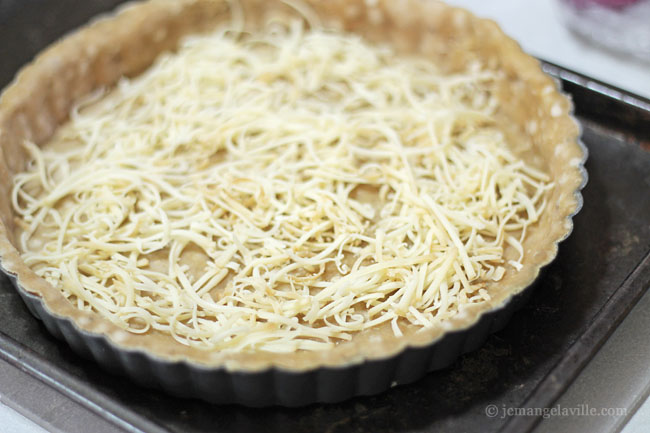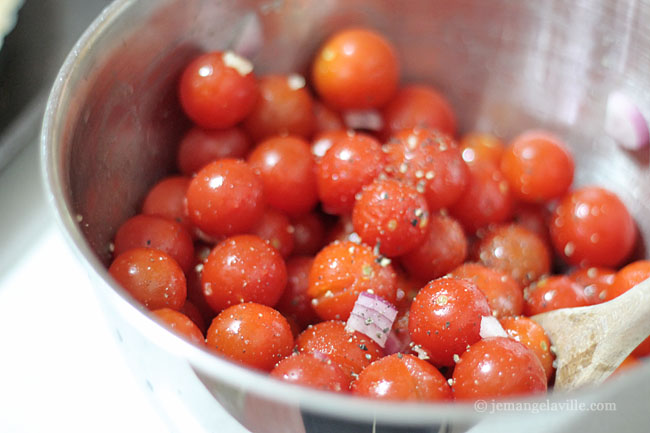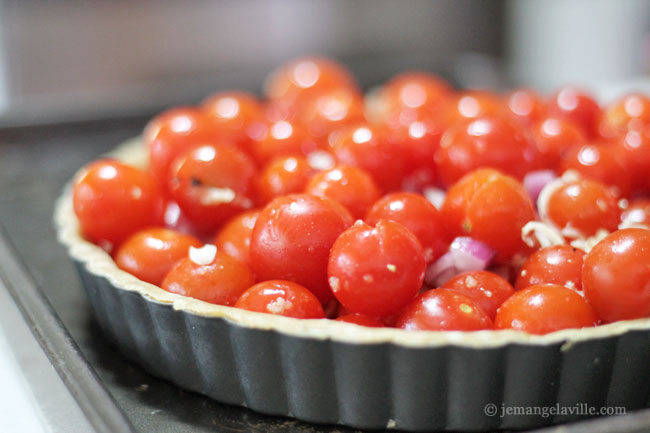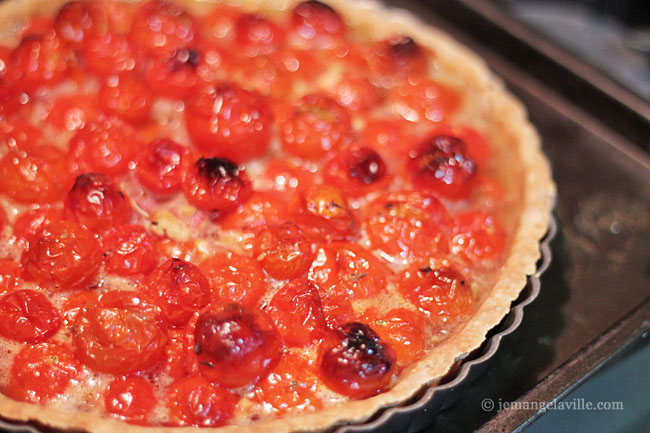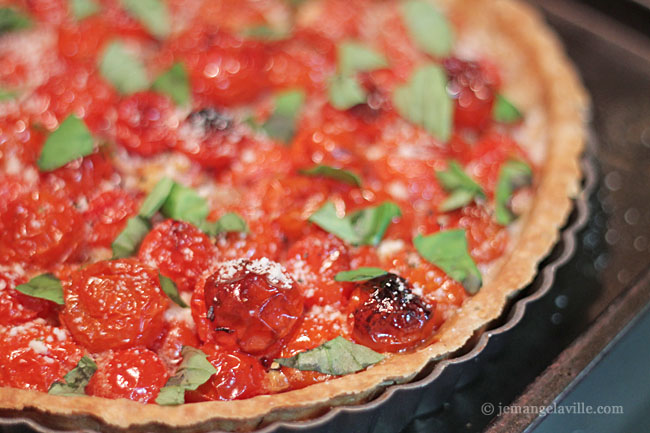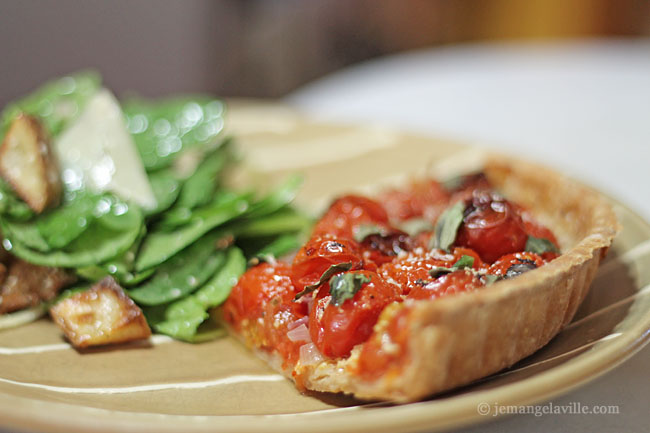 Roasted Cherry Tomato Tart with Smoked Mozzarella and Basil
Adapted from a recipe in Food & Wine Magazine; Serves 2-4
1 recipe tart crust, rolled out, and fitted into a tart pan ( I like love this one – Easy Olive Oil Tart Crust)
2 pints cherry or grape tomatoes
2 cloves garlic, minced
2 tbsp diced red or white onion
1 tsp olive oil
a few grinds of black pepper
1/2 cup loosely-pack shredded smoked mozzarella cheese
2 tbsp grated Parmesan cheese
6 basil leaves, torn into pieces
Kosher salt
Preheat the oven to 325 degrees F. Refrigerate the tart crust in the pan for about 30 minutes before using. In a large bowl, toss the tomatoes with the garlic, onion, and pepper. Sprinkle the smoked mozzarella cheese along the bottom of the tart crust and then mound the tomato mixture into the shell on top of the mozzarella.
Bake for about 1 hour and 40 minutes, until the crust begins to pull away from the pan and some of the top tomatoes are browned and wrinkly. Sprinkle with Parmesan cheese and let cool at least an hour. Sprinkle with the basil leaves and a little salt. Remove tart from ring*, slice, and serve.
* Trick for removing the tart from the pan. Get a can and set the tart pan on top of the can. Catch the tart ring as it falls. Done!