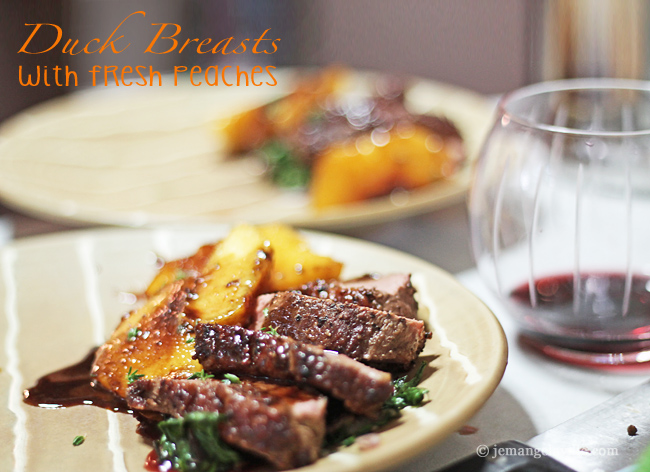 This French Fridays with Dorie will be short and sweet. It was Duck Breast with Fresh Peaches and it was delicious. My duck turned out a little bit more on the side of medium than rare on the medium-rare scale, but that's okay. I forgot to take the duck out of the fridge a couple of hours before cooking (for it to be room temp), so I had to adjust the cooking time a bit. And I ended up maybe giving it a minute or so more than I needed to. Anyway, still awesome, though!
The sauce was very good and flavorful even though I had to sub tawny port for ruby port and champagne vinegar for white wine vinegar. My plating kind of went to hell this week, but it was very hot in the kitchen and I'm getting over having all four wisdom teeth pulled last Friday. That's going fairly well.
I haven't even had to use any pain pills which I thought was no big deal, but today when I went into Lauretta Jean's to celebrate my return to solid food with a piece of quiche and a latte and mentioned my wisdom teeth drama to the lady who works there she seemed amazed that my face wasn't swollen up like a big balloon. Or that I only took advil.
So, apparently, I am all hardcore or something. Yay me!
Okay, like all FFwD recipes, this one is in Around My French Table by Dorie Greenspan. Here's a link to everyone's duck posts and my photos below.