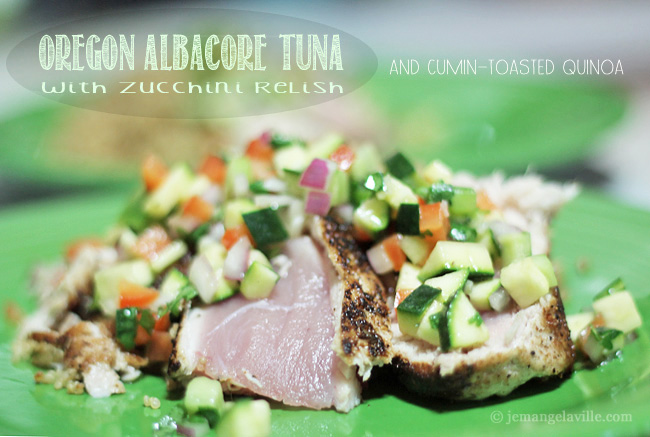 The other night, jwa and I were just hanging out, minding our own business and watching The Daily Show, when he got a text asking if we wanted some tuna. At first, I was a little jealous because I'm usually the one who gets contacted about receiving free food.
But, I got over that pretty quickly because less than a half hour later, jwa's co-worker Kevin (who has gifted us with seafood before – thanks, Kevin!) stopped by with a cooler full of tuna loin pieces from a fish he had caught near Newport, just the day before. And just like that, we were the lucky recipients of two beautiful pieces of albacore loin. I froze one for eating next week and the other one became this meal.
I tweaked the relish recipe from one in The Sonoma Diet, a cookbook I think I picked up at a garage sale a number of years ago. I hadn't made anything from it before, but this turned out really well so I'm sure I'll reach for it again.
Notes: For this, I really like using the Northwods Seasoning Mix from Penzeys to rub on the tuna. If you don't have that, salt and pepper alone will certainly work. Or you can make your own seasoning mix by combining dried rosemary, thyme, paprika, garlic powder, and a pinch of cayenne pepper. If you use a prepared seasoning mix, just be mindful of how much salt is in that when it comes time to salt and pepper the fish. Also, my hot sauce of choice is the Green (jalapeno) Tabasco.
Oh and I think this is my new favorite quinoa preparation.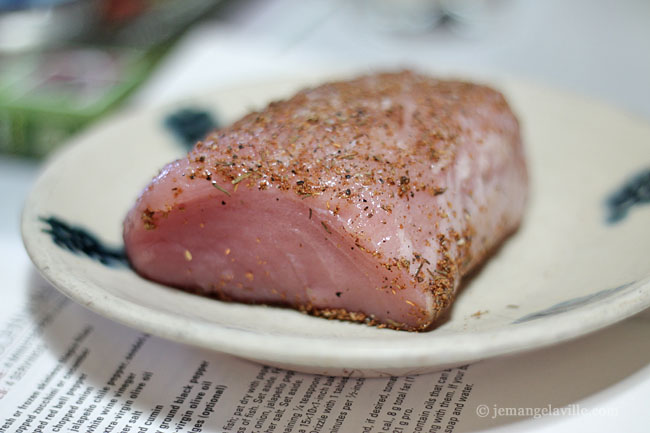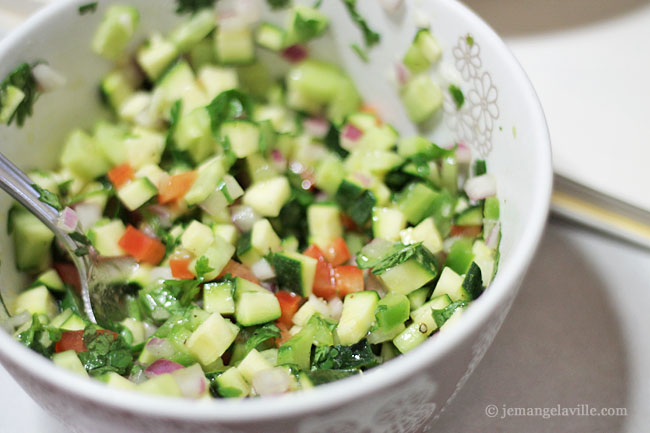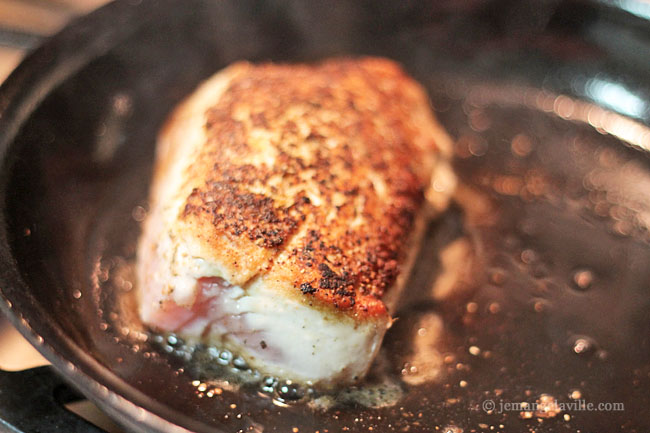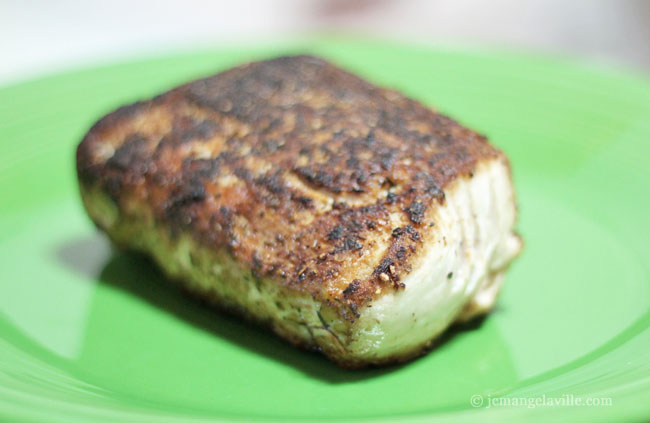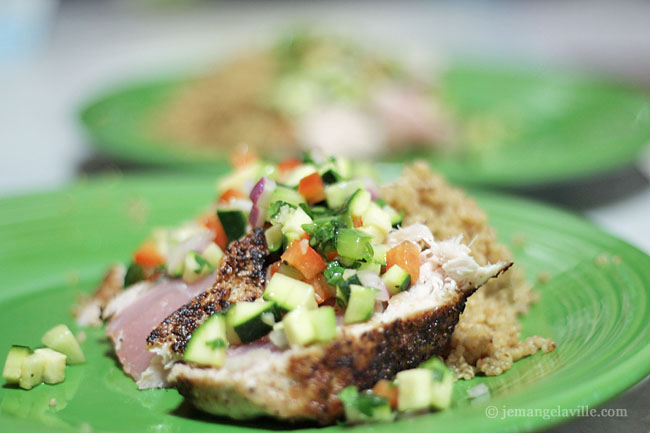 Oregon Albacore Tuna with Zucchini Relish and Cumin-Toasted Quinoa
Relish adapted from The Sonoma Diet Cookbook; Serves 2, can be doubled.
For Relish and Fish:
1/2 cup diced Zucchini
1/4 cup diced Cucumber
1/4 cup diced Red Bell Pepper
1/4 cup finely diced Red Onion
1 tbsp White Balsamic Vinegar
1 Tbsp Olive Oil (+ 1 tbsp more for cooking fish)
2 tbsp chopped Cilantro
a dash or two of Hot Sauce
Kosher Salt & Pepper to taste (and a little more for the fish)
1/2 – 3/4 lb Albacore Tuna (loin or steaks)
1/2 tsp favorite seasoning mix (or a combination of dried rosemary, thyme, paprika, garlic powder, and cayenne pepper)
Lime Wedges
For Quinoa:
1 tsp Olive Oil
1/2 cup Quinoa
1/4 tsp Cumin Seeds
1 cup juice of half and orange + water or Low Sodium Chicken Broth
Kosher Salt & Pepper to taste
Cumin-Toasted Quinoa: Squeeze the juice of half an orange into a measuring cup and then add water or broth to make one cup. If your quinoa is not pre-rinsed, rinse it in a fine sieve until the water runs clear, drain. Heat a pot over medium heat and add the oil, then quinoa and cumin seeds. Stir occasionally while it toasts briefly. After the quinoa gets a little color, add the liquid. Be careful, it may bubble and splatter a bit. Remove from heat if needed. Return pot to heat and and bring to a boil. Cover, reduce heat to low and simmer until liquid is absorbed, 15 to 20 minutes. Set aside off the heat for 5 minutes; uncover, fluff with a fork, and add salt and pepper to taste.
Relish and Fish: Combine the zucchini through hot sauce in a bowl. Add salt and pepper to taste and set aside. Can be made earlier in the day and stored in the refrigerator.
Warm a heavy skillet up over medium-high heat. Sprinkle the seasoning blend over both sides of fish, along with a liberal sprinkle of kosher salt and black pepper. When pan is hot, add about a tablespoon of olive oil and sear fish on each side 2-3 minutes, letting each side get all brown and crusty.
To serve: Divide quinoa between two plates. Slice fish and divide between the plates, spreading out by the quinoa. Top with zucchini relish and serve with lime wedges and any extra relish on the side.