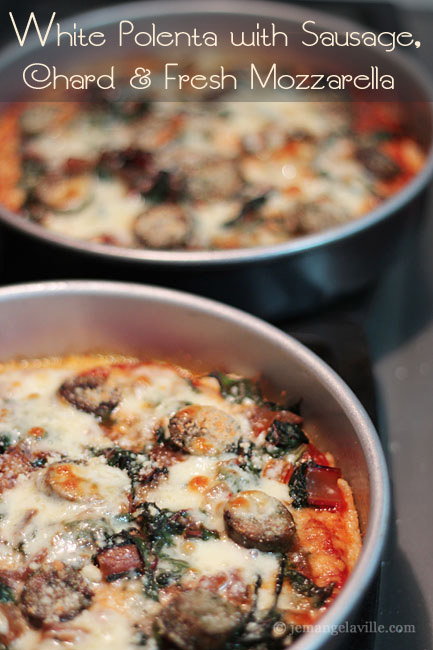 This was a recent meal at our house and even though I accidentally made two "errors" with it, the meal was still delicious. So, I think we'll call this one both forgiving and versatile.
Error number one was not realizing this recipe made two cake pans worth of polenta (not a big deal as the other polenta is safely in the freezer awaiting a dinner soon) and error number two was baking the polentas in the cake pans. Also not a big deal since, as far as I can tell, it worked out fine. Lessons learned: if you're just trying to feed two, just make a half recipe of the below and for possibly crispier polenta, turn them out onto a baking sheet. But you know, no big deal.
That all said, the versatility comes in by really being able to top these pizzas with anything you might normally put on a pizza. Mushrooms, bell peppers, zucchini, lamb sausage, feta — it's completely adjustable to the season and whatever you're in the mood for eating!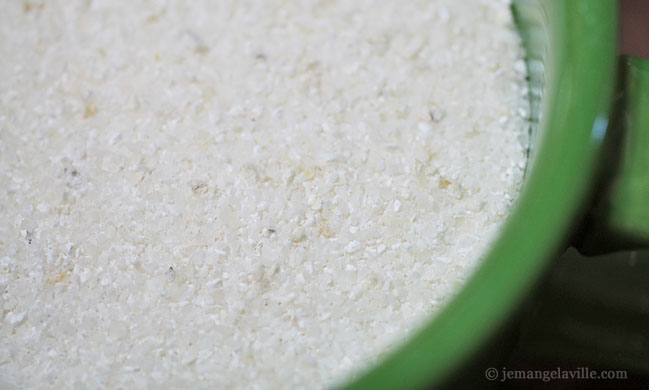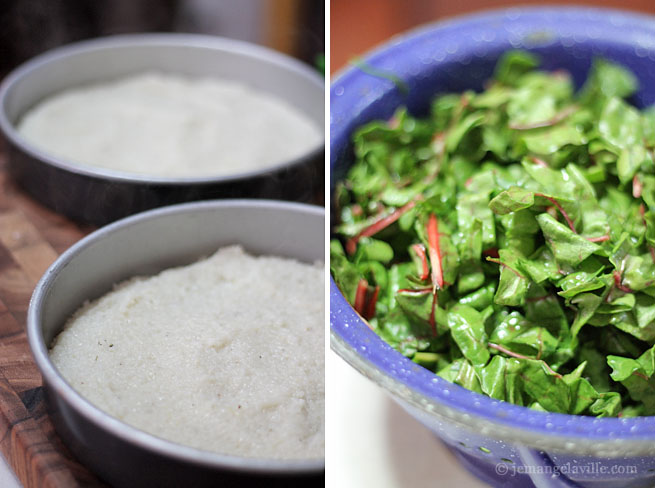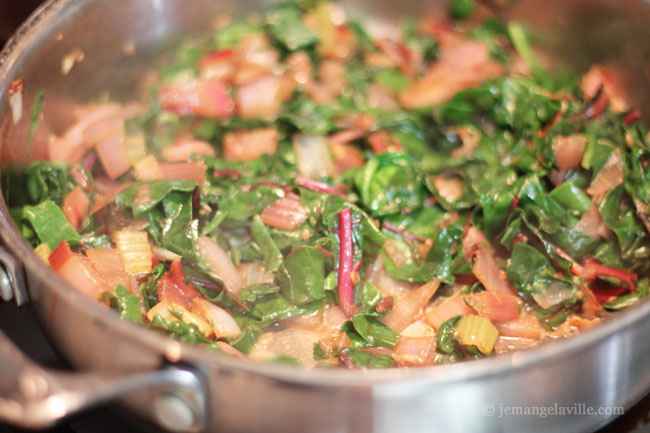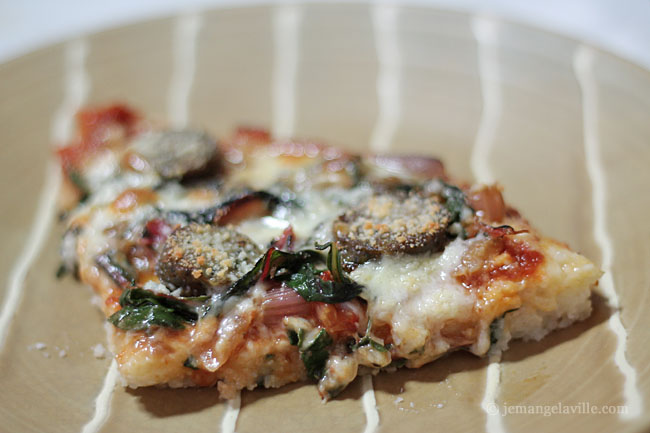 White Polenta with Sausage, Chard and Fresh Mozzarella
Adapted from La Cucina Italiana magazine; serves 4
4 cups low sodium Vegetable or Chicken Broth
4 tbsp extra-virgin Olive Oil (divided) plus more for drizzling
2 Bay Leaves
1/8 tsp Red Pepper Flakes
Kosher Salt and Black Pepper
1 1/2 cups coarse White Polenta
1 tsp finely chopped Thyme
1 small Onion, diced
3 cloves Garlic, minced
1 bunch Chard, stems chopped separately, leaves removed and chopped
1-1/2 cups Pasta Sauce (store-bought or handmade is fine)
1/2 cup grated Parmesan cheese
2 Pork or Chicken Sausages, sliced into 1/2-inch pieces and sauteed until golden
4 ounces fresh mozzarella cheese, cut into 1/4-inch-thick slices
Optional: Balsamic Vinegar for drizzling
Spray two 8-inch cake pans with non-stick olive oil spray. Set aside.
In a large saucepan, combine broth, 2 tablespoons olive oil, bay leaves, the red pepper flakes and 3/4 teaspoon salt; bring to a boil. Slowly add polenta in a thin stream, whisking; reduce heat to medium and cook, whisking constantly, for 2 minutes. Reduce heat to low and cook, stirring often with a wooden spoon, until polenta is thickened and tender, about 15-40 minutes (depending on if you are using quick cooking or traditional polenta). Taste and adjust salt as needed, add thyme leaves and black pepper to taste. Remove and discard bay leaves.
Transfer polenta to prepared pans, spreading evenly with a rubber spatula. Let polenta cool completely in pans on a wire rack.
In a large skillet, heat remaining 2 tablespoons oil over medium heat. Add onion and cook for 2 minutes. Add garlic and chard stems, reduce heat to medium-low, and cook, stirring occasionally, until onions and chard are softened, about 8 minutes. Add chard leaves, a pinch of salt and pepper, and cook until chard is wilted, about 5-6 more minutes. Remove from heat.
Heat oven to 400 degrees F with rack in middle. Line a baking sheet with parchment paper.
Turn out polenta rounds onto prepared baking sheet (or, you can also just bake in the cake pans, which is what I did — it works too). Top with sauce, spreading to 1/2-inch from edges of polenta and sprinkle each with half the parmesan cheese. Arrange chard, sausage, mozzarella and remaining Parmesan on top. Bake until cheese is melted and just beginning to brown, about 10 minutes. Serve warm, with a drizzle of oil and balsamic vinegar.