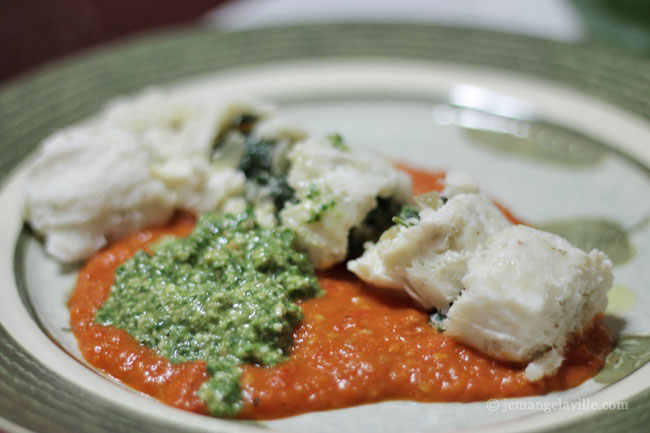 This week's French Fridays with Dorie was a very interesting thing indeed — so interesting, in fact, that I am a day late in getting the post up.
Cod and Spinach Roulades — a spinach and onion filling, wrapped up in fish mousse, steamed and served with tomato sauce and pesto. Kind of like an Italian-French fish tamale?
I don't see the recipe officially online, so I can't link to it, but it can be found in the cookbook, Around my French Table by Dorie Greenspan.
Notes:
1. I did not use plastic wrap. I know that it is probably fine, but I just don't like the idea of wrapping plastic around food and then heating it. So…I used parchment paper. And it was moderately successful. It did let some steam/condensation in while steaming, but the fish still held together fine.
2. No cream on hand and didn't want to go buy some for such a small amount, so I used a mixture of full-fat Greek yogurt and non-fat milk for a substitute. It seemed to work. I also substituted some plain lemon zest for the preserved lemon zest.
3. Plating was not as pretty as I envisioned it in my head. Sigh.
4. We liked it but it seemed a little bland. Maybe more garlic? Also, it was a lot of work. Not entirely sure the end result was worth it. I did love the lemon in the tomato sauce though.
5. Unrelated to this post, I am having a giveaway for Freekeh (green wheat — a whole grain and a great substitute for rice or pasta). Go to this post to enter by Sunday, April 21.
Okay, my photos below and a link to everyone's French Fridays posts this week!