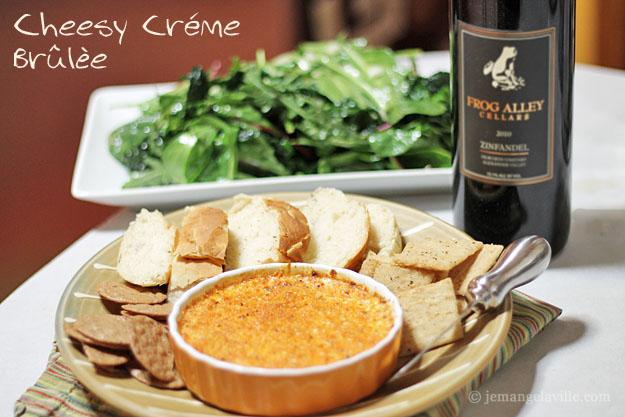 I had every intention of skipping this week's French Fridays with Dorie because I didn't think I'd have enough time to make it. Then I checked the schedule and saw that it was Cheesy Crème Brûlée and well, I found myself heading right to the store to pick up supplies.
I love crème brûlée and I love cheese, so this was quite the alluring combination for me. But, because it is all cheesy and creamy, I did opt to only make about a third of the recipe. This was roughly one egg yolk, 3/4 cup half and half (which I subbed for the whole milk and cream to make it a bit easier) and about 1.7 oz of cheese (a mix of Parmesan and cheddar). I used a very short, wide crème brûlée dish and it ended up being the perfect size to share.
Other changes I made: I added about 1/2 tsp of Dijon mustard to the custard and for the topping cheese, I mixed in a little smoked paprika and more freshly ground black pepper.
I had some troubles getting mine to set at such a low oven temperature (mostly due to my impatience for dinner on a Wednesday night). After about 40 minutes at 200 degrees F, I gave up, took the brûlée out, cranked the oven up to 300 degrees, put the brûlée back in, and then promptly forgot about it for about 10 minutes. Doh! It was a little curdle-y but not a huge deal. Still delicious! Next time, I think I may just start at 300 degrees, bake it in a water bath, and check it after 20 minutes or so. I just don't think I am patient enough to bake something at 200 degrees.
I also opted to use the broiler to top the cheese instead of a torch. I was just envisioning blackened, burnt cheese otherwise.
Aside from all the tweaking, I thought this one was great! We had ours warm for dinner (what's not to love about warm cheese?), with a huge (HUGE!) salad of baby kale and some wine. Definitely a keeper. Here's a link to everyone's FFwD posts this week.