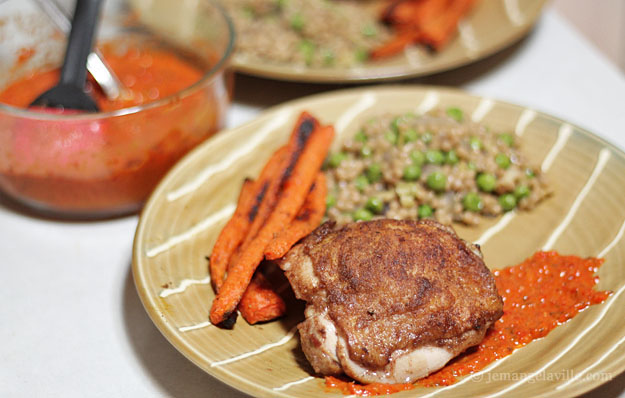 Does cinnamon and chicken sound weird? Well, maybe just a little at first (although, probably not as weird as tuna meatballs with cinnamon), but, honestly this chicken dish is so amazing. The chili flakes keep the cinnamon-sugar marinade from becoming too sweet and it all just really seems to work with the juicy, roasted chicken thighs. Plus, when you think about it, just because cinnamon seems to be typically used (at least in the U.S.) in sweeter recipes, the spice itself isn't sweet at all. It's paired with lamb all the time. See, not that weird at all.
Also, I seriously love chicken thighs. Even the skinless, boneless ones aren't bad but the bone-in thighs are just the best, so you can probably imagine how much I enjoyed this meal. This harissa, while I'm not sure how authentic it is, pairs excellently with the chicken. The caraway adds a very unexpected flavor and the roasted bell peppers are all smokey and rich — a flavorful partner for the spicy, cinnamon-y, crispy skin.
On the side we had some cumin roasted carrots (carrots, sliced and tossed with cumin, salt, pepper and olive oil, roasted for about 20 minutes) and whole wheat Israeli couscous with caramelized onion and peas. I would imagine that regular couscous would be a great side as well.
Note: The chicken needs to marinate overnight (or at least eight hours), so plan accordingly.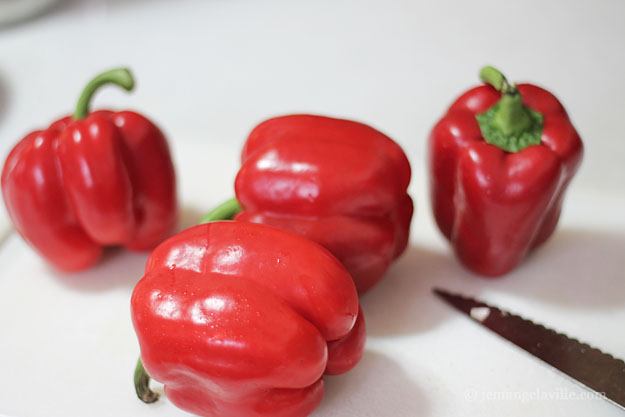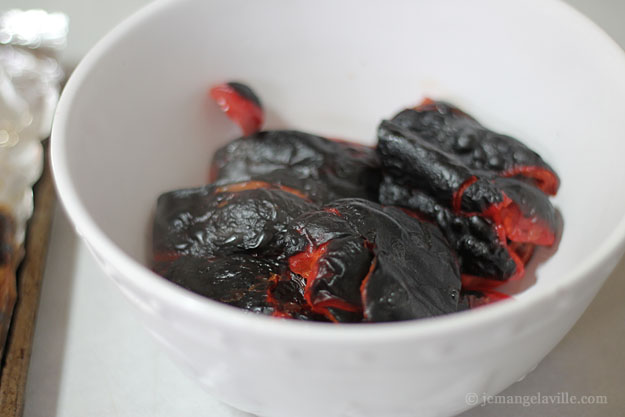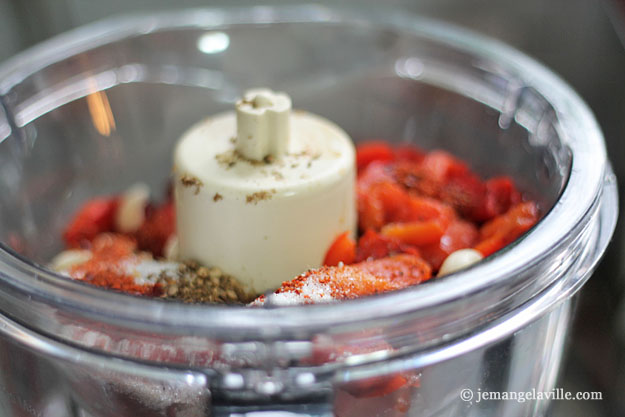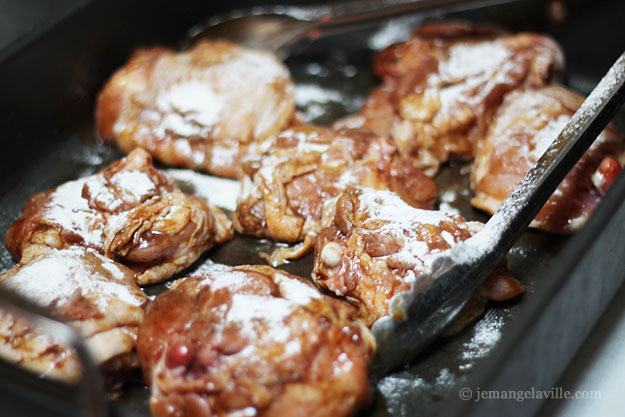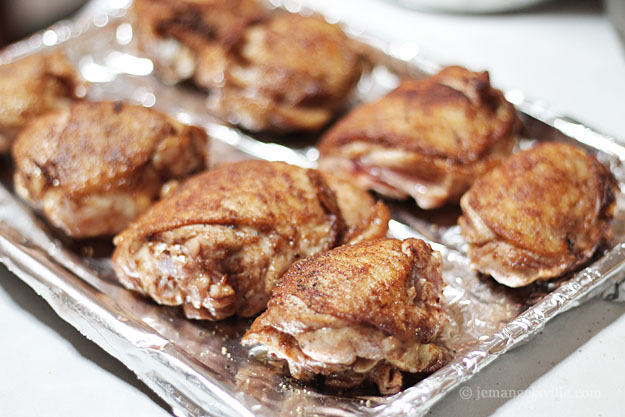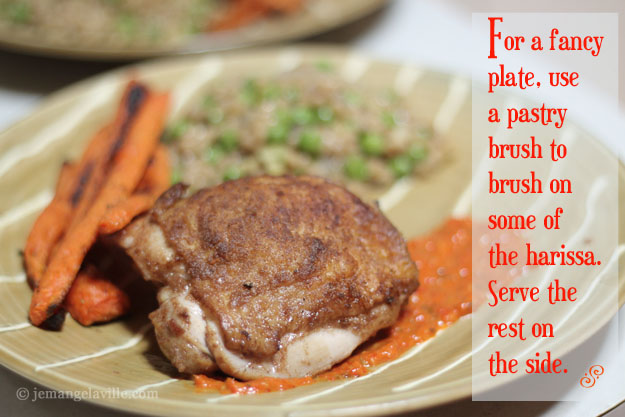 Cinnamon-Roasted Chicken Thighs with Harissa Sauce
Adapted from Helen's, Richmond, VA via Bon Appétit magazine; serves 4-6)
1/2 cup olive oil
2 tbsp ground cinnamon
1-3/4 tsp kosher salt
1/2 tsp cayenne pepper
1 tsp sugar
8 chicken thighs with skin and bones
1/2 cup AP flour
1 tbsp olive oil or coconut oil
For Harissa Sauce
2 tbsp coriander seeds
2 tbsp caraway seeds
4 large garlic cloves, unpeeled
4 large red bell peppers
1/2 cup extra-virgin olive oil
1 tbsp sugar
1 tsp dried crushed red pepper
To make harissa: Stir coriander and caraway in small skillet over medium-high heat until aromatic, about 30 seconds. Transfer to processor. Cook garlic in same skillet, covered, over medium-low heat until tender, turning occasionally, about 10 minutes. Cool. Peel garlic; add to processor. Char bell peppers over gas flame or in broiler until blackened on all sides. Enclose in paper bag (or place in bowl and cover with foil); let stand 10 minutes. Peel, seed, and coarsely chop peppers; add peppers, oil, sugar, and crushed red pepper to processor. Puree. Season with salt and pepper.
For Chicken: Mix first 5 ingredients in small bowl. Place chicken breasts and thighs in 2-gallon resealable plastic bag. Pour oil mixture over; seal bag. Turn bag to coat chicken with marinade. Chill overnight or for 8 hours. Preheat oven to 475°F. Transfer chicken to rimmed baking sheet, shaking off marinade. Sprinkle chicken with flour on both sides, shaking off any excess. Heat 1 tablespoon olive or coconut oil in large skillet over medium-high heat. Working in batches, add chicken to skillet. Cook until golden, about 3 minutes per side. Place chicken on a baking sheet, skin side up. Roast until cooked through, about 15 minutes. Serve chicken with Harissa Sauce. For a fancy plate, use a pastry brush to brush on some of the harissa. Serve the rest on the side.