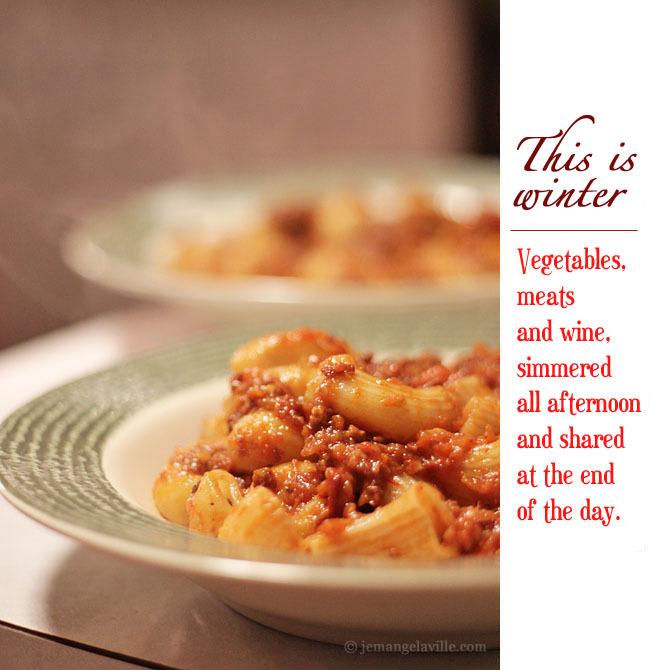 What is there to say about a giant pot of Ragù Bolognese? That it's red, and hearty and that it's full of meat. That it's delicious…well, yes, of course that. Maybe also that it's easy to misread the original recipe and get prosciutto instead of pancetta. And maybe that it wasn't even noticed until days afterwards, when the recipe was going to be posted here. All of these things are true.
Since the pancetta-prusciutto mishap, I've actually looked at other Bolognese recipes and some of them do use prusciutto. So there. I feel a bit better about that now. But even without that validation, I still would have posted it exactly how I made it, because it was really, really good. Thick and meaty and everything you could want on a cold Saturday in January (unless you're a vegetarian).
I think this also illustrates my approach to cooking, it should be fun and not too stressful. So I accidentally got prosciutto instead of pancetta…did the world end? No. I didn't even notice my mistake until days later and besides, the meal was still delicious. Sometimes you will add a little too much/too little of something or misread a recipe — it happens. And it will most likely happen again. Make it work if you can and if not, order a pizza.
But, back to the Bolognese. This is also a great opportunity to use up any summer tomatoes that may have been roasted and frozen. That's exactly what I did. I added them (about a cup) right into the sauce when I added the broth and tomato paste. You certainly don't need to do this and I didn't even mention it below, just know that you could.
This is winter –vegetables, meat and wine, simmered all afternoon and shared at the end of the day.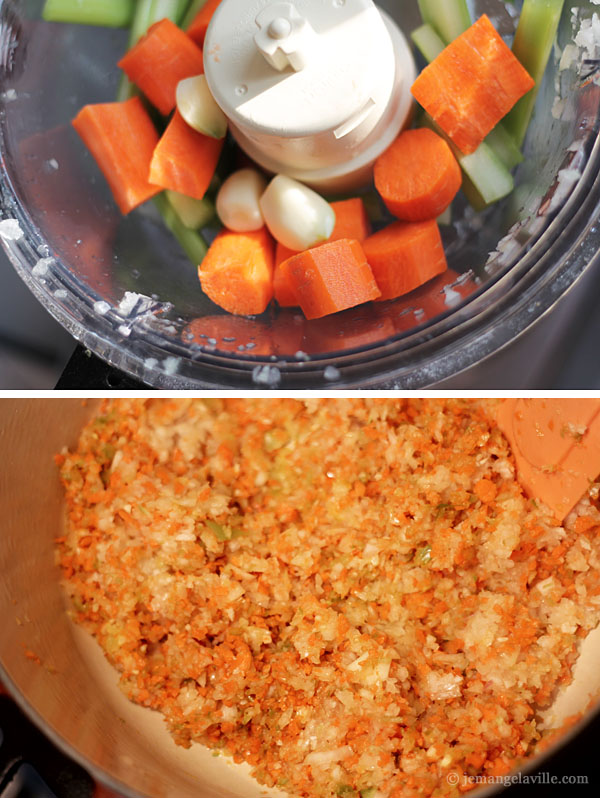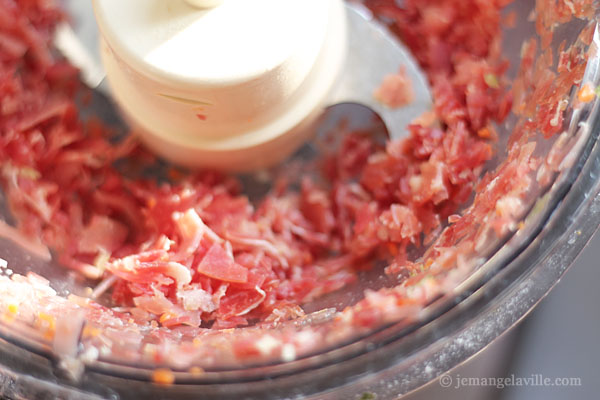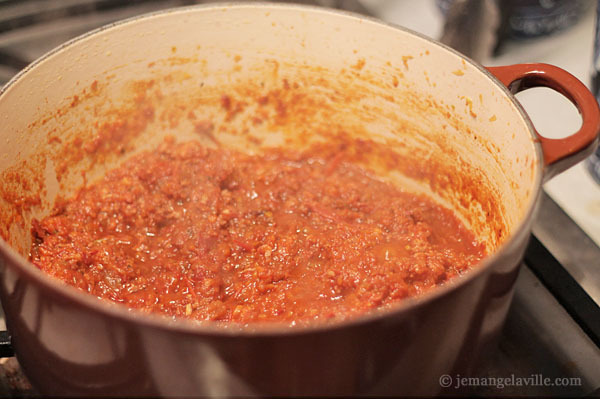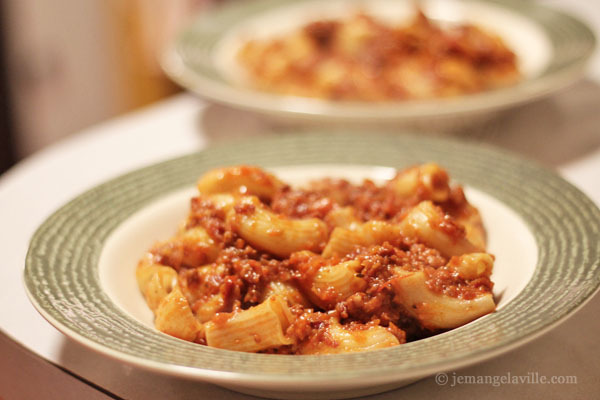 (Semi-Classic) Ragù Bolognese with Rigatoni
Adapted from a recipe in Bon Appetit magazine; serves 4-6
2 Tbsp olive oil
2 medium onions, roughly chopped
2 celery stalks, roughly chopped
2 carrots, peeled, roughly chopped
4 cloves garlic, peeled
6 oz. ground beef
6 oz. ground pork
3 oz thinly sliced prosciutto, roughly chopped
1/2 cup dry red wine
3 cups low-sodium beef broth, divided
3 Tbsp tomato paste
Kosher salt and freshly ground black pepper
1 cup whole milk
1 lb fresh rigatoni (or other) pasta — I got mine at pastaworks
Garnish: grated Parmesan
Add onions, celery, carrots and garlic into the bowl of a food processor and finely chop. Next do this with the prosciutto. Set both aside (keeping separate).
Heat oil in a large heavy pot over medium-high heat. Add onions, celery, and carrots. Sauté until soft, 8-10 minutes. Add beef, pork, and prosciutto; sauté, breaking up with the back of a spoon, until browned, about 15 minutes. Add wine; boil 1 minute, stirring often and scraping up browned bits. Add 2 1/2 cups broth and tomato paste; stir to blend. Reduce heat to very low and gently simmer, stirring occasionally, until flavors meld, 1 1/2 hours. Season with salt and pepper.
Bring milk to a simmer in a small saucepan; gradually add to sauce. Cover sauce with lid slightly ajar and simmer over low heat, stirring occasionally, until milk is absorbed, about 35-40 minutes, adding more stock by 1/4-cupfuls to thin if needed.
Bring a large pot of water to a boil. Season with salt; add pasta and cook, stirring occasionally, until 1 minute before al dente. Drain, reserving 1/2 cup pasta water. Add pasta to the ragu and toss to coat. Stir in some of the reserved pasta water by tablespoonfuls if sauce seems dry. Divide pasta among warm plates.
Serve with Parmesan and bread. And red wine. And honestly, you should probably have a big mixed green salad with this too.