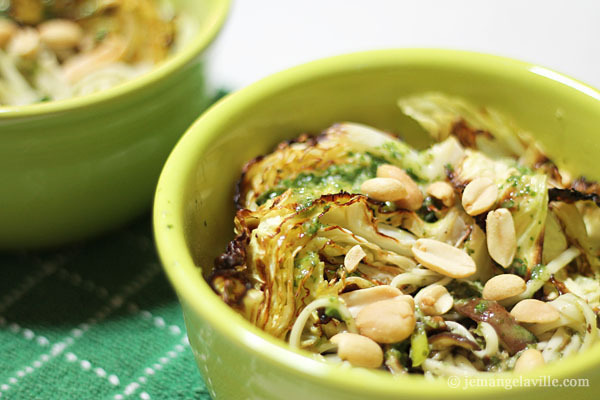 I came across this post on The Kitchn last year and pretty much went right home and made the cabbage right away that first evening (and many times since). I've always roasted it in the oven instead of grilling and I've found that it works very well ithat way. It's funny, I've never really been a big fan of cabbage but this recipe just really works, you know? Kind of like how roasting brussels sprouts will turn those haters into huge fans — same thing here.
We've had this roasted cabbage before as a side for grilled tuna or even just as a snack. The other night I tried adding it to udon noodles and it was delicious — the dressing works as a great, spicy sauce for the noodles.
My head of cabbage was quite small (about 12 oz), so it was easily divided between two people. If you have a larger head (most likely) and are only making two servings, feel free to use either a half or even a quarter of the cabbage for this recipe. Or make it all with more noodles, and have extras for lunch the next day.
Incidentally, I got my cute little head of cabbage from the new Know Thy Food market. If you're in Portland and haven't been yet, you should check it out. I was a kickstarter donor for their campaign to build the market (they were previously a food buying club) and my reward was a huge 7.5 pound bag of produce, as well as local honey, chocolate, eggs, goat cheese and salami! They are at 3434 SE Milwaukie Ave and are open from 8am – 8pm every day. Go!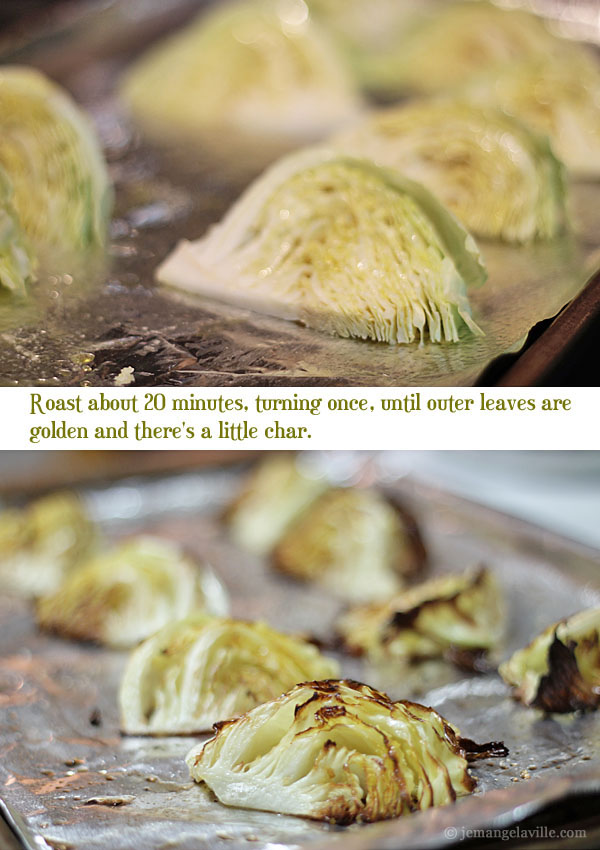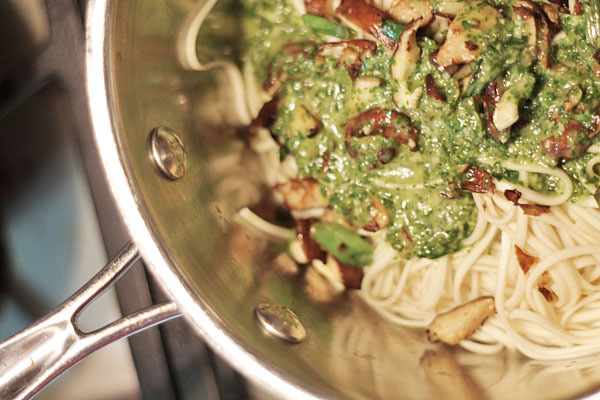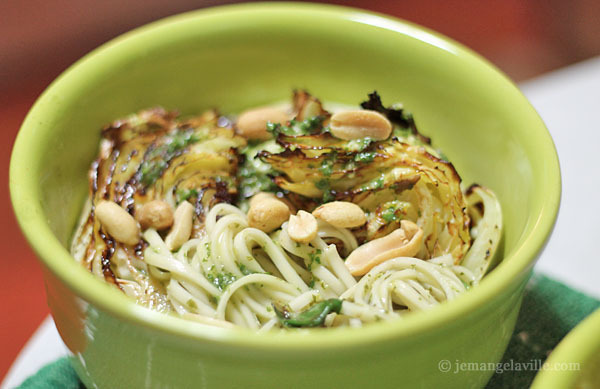 Roasted Cabbage Wedges with Udon Noodles, Mushrooms and Cilantro Lime Dressing
Cabbage and dressing adapted from a recipe by Faith Durand on The Kitchn; serves 2
3 tbsp lime juice
3 tbsp extra virgin olive oil
1-2 tsp fish sauce (Skip to keep vegetarian)
2 garlic cloves
1 handful cilantro leaves
1/4 tsp cayenne
1/4 tsp sugar
1 small head green cabbage (12-16 oz total)
canola or olive oil
kosher salt and pepper
about 5 oz dried Udon or Soba noodles (one and a half bundles)
2 green onions, chopped
15 shiitake mushrooms, stemmed and sliced
Garnish: roasted peanuts
Directions: Add the juice from the limes, olive oil, fish sauce, garlic, cilantro, cayenne and sugar to a food processor or blender and blend. Set aside.
Preheat the oven to 425 degrees F. Remove outer leaves from the cabbage and cut in half. Cut those wedges in half and then cut in half again so that you have eight wedges. Spread out on a baking sheet and brush with some canola or olive oil. Sprinkle with salt and pepper. Roast about 20 minutes, turning once, until outer leaves are golden and there's a little char.
While cabbage is roasting, cook udon noodles in boiling water according to package instructions. At the same time, heat a small pan, add a little canola or olive oil and saute mushrooms until soft. Add green onions to the pan with the mushrooms.
To put it all together: Toss cooked udon noddles with all except 2 spoonfuls of the lime-cilantro dressing. Divide noodles between bowls and top with mushrooms and roasted cabbage wedges. Drizzle reserved dressing over cabbage and sprinkle with peanuts.