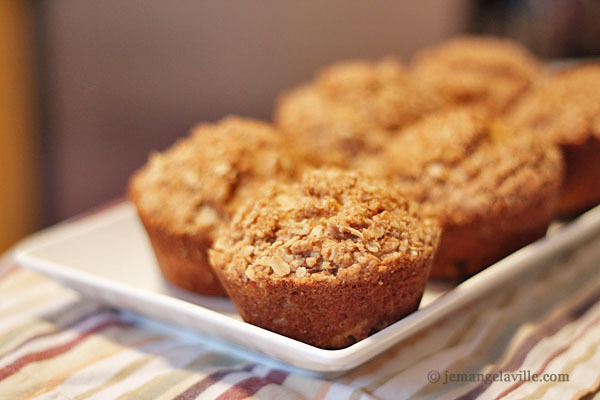 I received the Bouchon Bakery Cookbook for Christmas and besides being a beautiful cookbook, it also appears to have my most favorite muffin recipe ever in it. Originally, the recipe was for carrot muffins but I have been using squash (once butternut and most recently delicata) to make wonderful, somewhat healthy, winter muffins.
The cookbook gives all the measurements in gram weights as well as cups/teaspoons/etc…and while I can see how that's useful, I really only weighed my flours and squash. You, of course, are free to weigh your eggs and baking soda, but you'll need to buy the book for those amounts. Or not weigh anything at all, of course.
These are seriously the best muffins ever. Not too sweet (but with a nicely sweet topping) and enough healthy ingredients to not make you feel too guilty about the butter and sugar. And of course, feel free to substitute the original grated carrots for the squash.
The struesel topping recipe make more than you will need for one batch of muffins. Store the leftovers for the next batch in the fridge and you should have just enough to cover those as well! Recipe follow the photos below.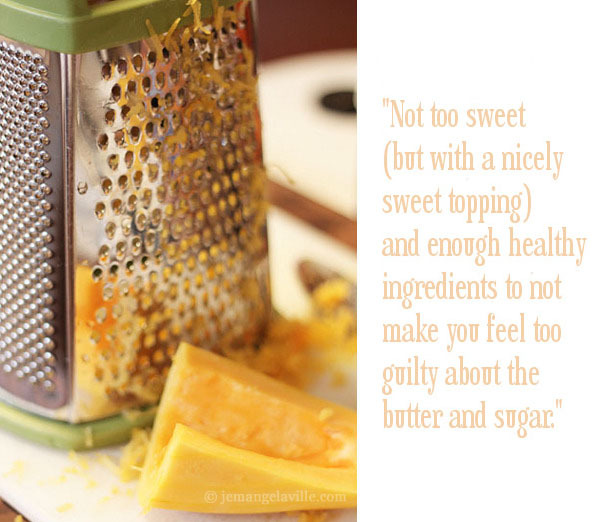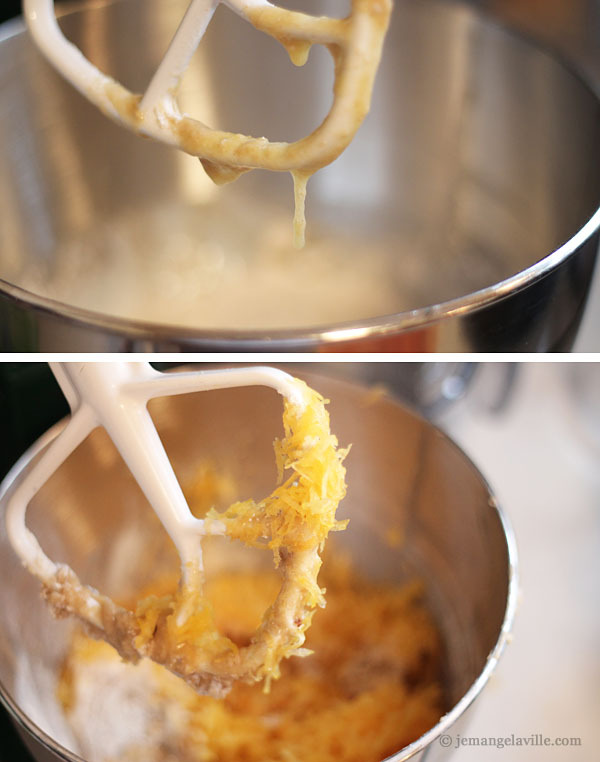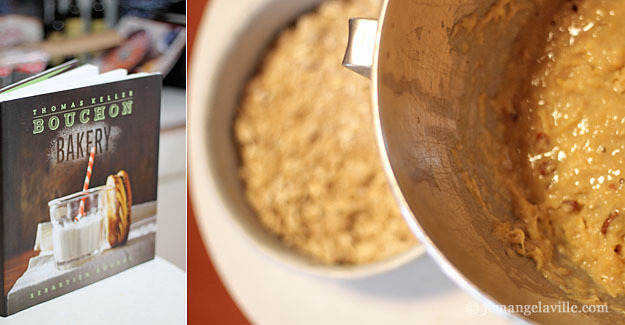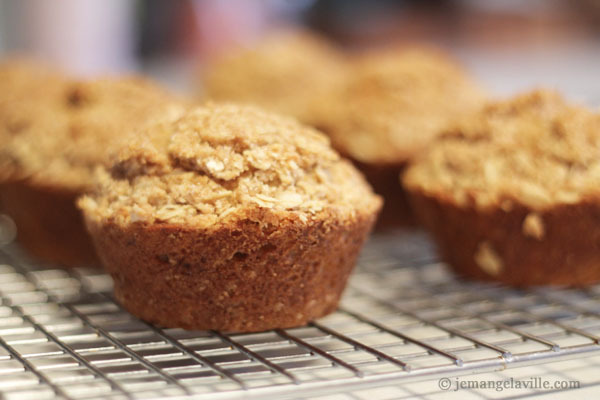 Butternut (or other) Squash Muffins with Oat Streusel Topping
Adapted/inspired from the Bouchon Bakery Cookbook; makes 6 jumbo muffins.
1 cup AP flour
1/4 cup whole wheat pastry flour (180g combined white and wheat flour weight)
1/2 tsp baking soda
1/4 tsp baking powder
3/4 tsp ground cinnamon
1/4 tsp ground ginger
3/4 tsp kosher salt
1/2 cup granulated sugar
1/3 cup canola oil
1 tsp vanilla extract
2 eggs
2 tbsp buttermilk (or soured milk)
1-3/4 cup (212g) finely grated butternut, acorn or delicata squash (or carrots)
Oat Struesel Topping:
1/2 cup AP flour
1/2 cup rolled oats
3 tbsp wheat germ
1/4 cup (packed) brown sugar
1 tbsp granulated sugar
1/4 tsp ground cinnamon
1/4 tsp ground nutmeg
pinch kosher salt
4 tbsp cold butter, diced into small pieces
Preheat the oven to 425 degrees F and spray a jumbo muffin pan with non-stick spray. Add flours to a bowl, then whisk in baking soda and powder, cinnamon, ginger and salt. Set aside.
Add sugar and oil to the bowl of a stand mixer and mix with the paddle attachment on low speed for about a minute. Add the vanilla, scrape down the edges and add the eggs and buttermilk, mixing on low speed until incorporated. Add the dry ingredients in two additions, mixing briefly between each. Stir in the grated squash with a rubber spatula.
To make the streusel topping, combine all ingredients except the butter in a medium bowl. Use a pastry blender or fork to blend in the butter. Topping can be refrigerated for up to two days.
Distribute muffin batter between muffin cups. Sprinkle about 2-3 tablespoons of struesel topping on each muffin and press down lightly. Place muffins pan in oven, turn temperature down to 325 degrees F and bake for about 40 minutes, until the tops are golden brown and a knife or skewer inserted near the center comes out clean. Cool for a few minutes in the pan, then remove muffins and finish cooling on a rack. They are great while still warm too.