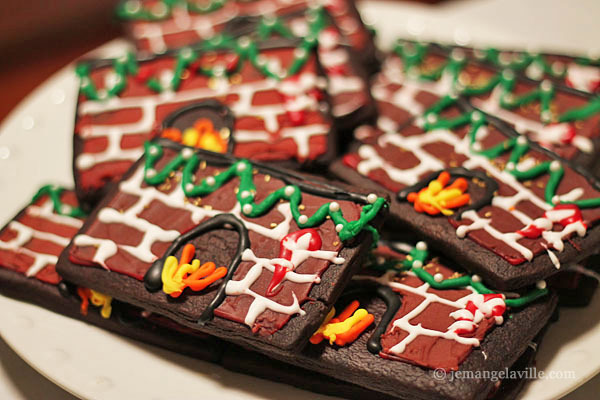 Over the weekend, I had a plan to make holiday cookies, the kind with frosting and everything. And at the end of the day (and a fairly cramped right hand later), I'm proud to say that I ended up with these cute little fireplace cookies.
They're especially nice because you can make them as Christmas-y as you want or even adapt the decorations to whatever holiday you celebrate this time of year. You could also just make and eat them because it is winter and you are sitting in front of a warm, toasty fire (meta). They are very versatile cookies.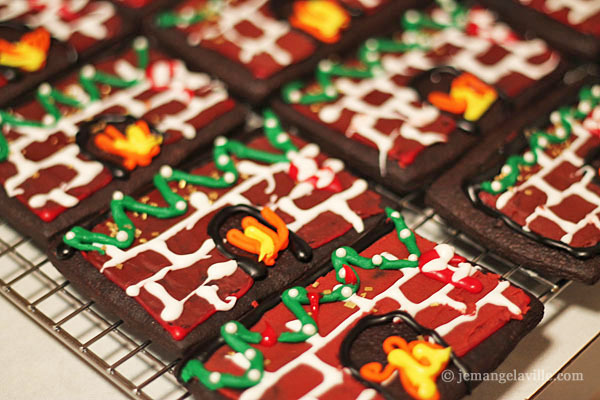 I also made these using one of my new favorite ingredients — black cocoa powder.
Black Cocoa Cookies
Original recipe origin unknown
1 1/2 cups butter, softened (I have also used 1 cup shortening and 1/2 cup butter in this recipe and it works just as well)
2 1/2 cups sifted powdered sugar
2 large eggs
1 tsp vanilla extract
3 cups AP flour
1 /2 Dutch process cocoa
1/2 cup black cocoa powder
1/4 tsp salt
1/2 tsp ground cinnamon
Beat butter at medium speed with an electric mixer until creamy. Gradually add the powdered sugar, combining well. Add the eggs and vanilla and beat until blended.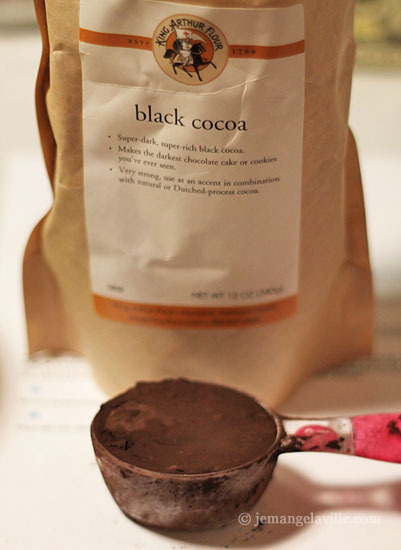 Combine the flour and next three ingredients and gradually add to the butter mixture at low speed. Divide dough in half and wrap each portion in plastic wrap. Chill at least one hour.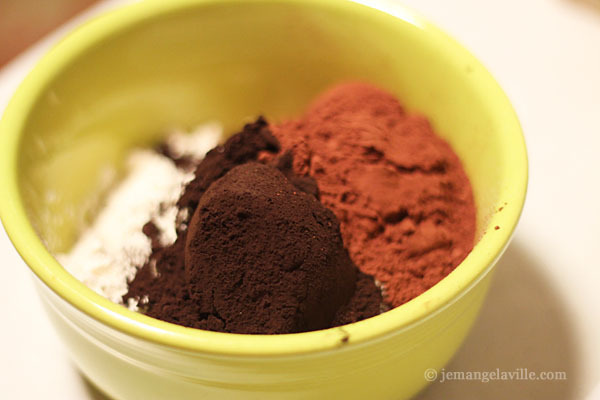 Roll one portion at a time to 1/4 inch thickness on a cocoa-sprinkled surface (I used the regular cocoa powder here). Use a rectangular cookie cutter to cut out cookies.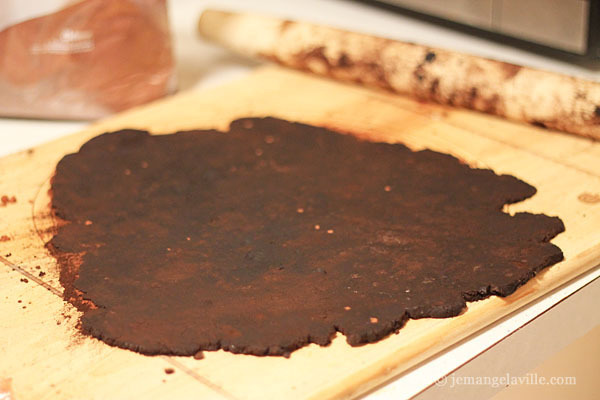 You can gather and re-roll scraps. Then repeat with the other ball of dough. Bake at 350 degrees F for about 11-12 minutes. Let cool completely.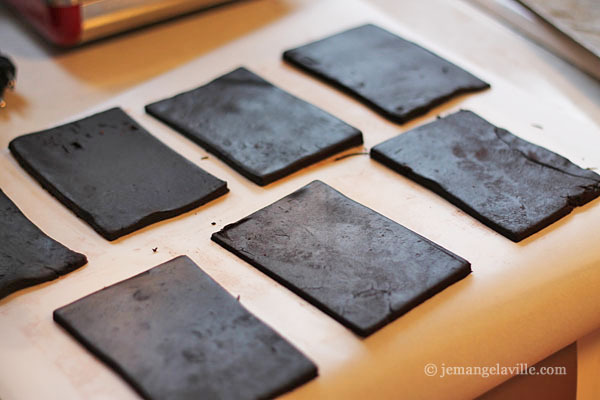 To decorate: Use a thin line of red frosting (with a small, round tip) to outline the fireplace and opening for the fire. Let dry. Then fill in with a brick red frosting (I made mine by combining red with a little black frosting).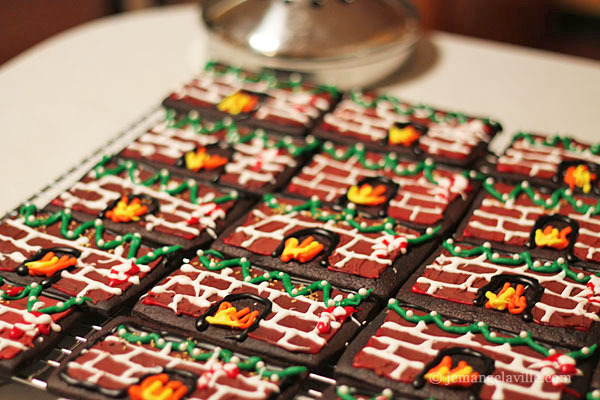 Then, add the white lines of the grouting (again, using a small round tip), next add in the green boughs. I added little pearls to the boughs and then the flames. The last step was the slightly messy candy cane — my hand was getting super tired by this point — perhaps it was a mistake?
You could certainly make your own frostings for these cookies, but I just used store-bought (lazy)!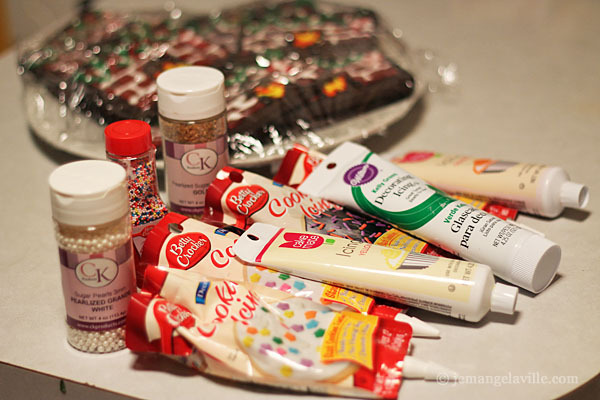 At Halloween, I used the black cocoa cookie recipe to make skeleton cookies with this cookie cutter.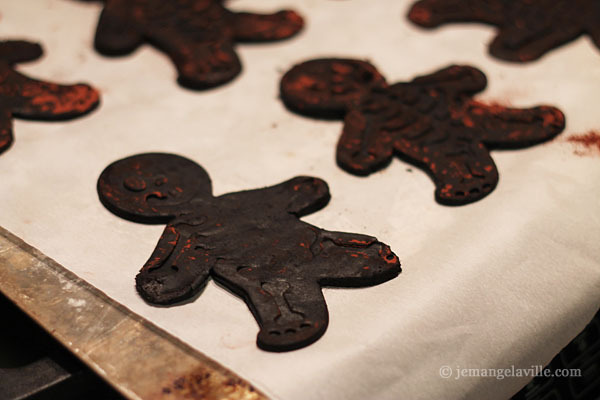 These turned out pretty well, but with this cookie cutter you need to make sure you dust the dough well with cocoa powder before pressing the cutter into the dough. Or you will not get the cutter out without some serious damage to your cookies.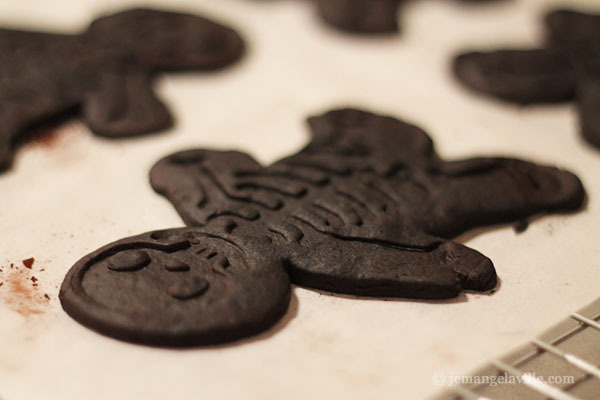 Since the cookie cutter also indents the cookies with the bones, after baking you just fill in the grooves with icing.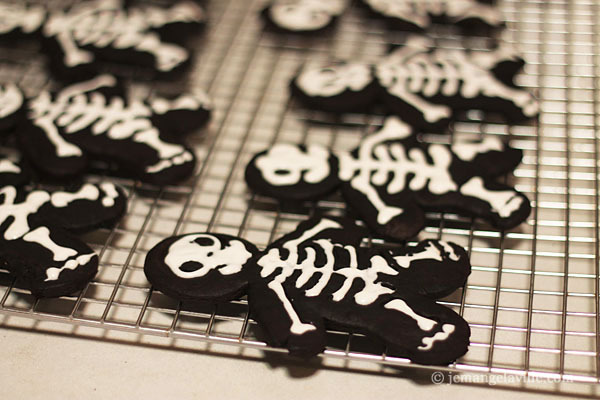 These looked especially great with the black cocoa powder…very spooky. They were a big hit at work.