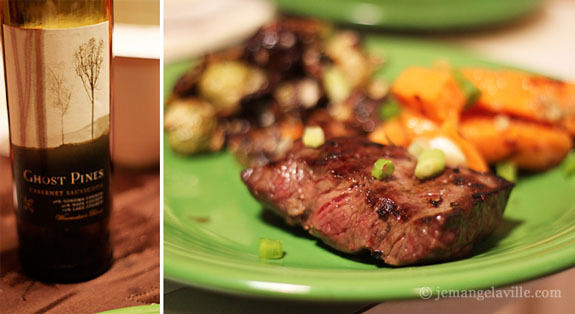 I just learned that December 5th (today) is Repeal Day! That's when Prohibition was repealed way back on December 5, 1933 after 13 long, sad years of no booze. Let's all rejoice and not only drink alcohol, but cook with it too. Hooray!
Are you in the mood for a steak? How about whiskey? Hey, here's an idea — how about we combine them into an awesome, red meaty meal? Really, you should do this because it was pretty satisfying. I am always looking for an excuse to try a steak recipe since, honestly, we don't eat red meat very often (2-3 times a month, if that). It's a steak adventure, if you will.
I am also happy to find a recipe that incorporates alcohol into food…because that is pretty fun. A little for the food, a little for the chef. But I digress. This is as good as it sounds (and looks) — a slightly sweet, complex glaze and tender, juicy, medium-rare meat. Roasted brussels sprouts on the side complete the plate.
Whiskey Glazed Flat Iron Steaks with Grilled Sweet Potatoes
Recipe adapted from Food Network
1/4 cup whiskey, I used Ransom's whippersnapper
2 tsp brown sugar
Kosher salt and freshly ground black pepper
2 Tbsp olive oil
3 cloves garlic, minced (divided)
Two 8-ounce flat iron steaks
3/4 pound sweet potato (about 1 large)
1 tbsp + 1 tsp olive oil
1/2 teaspoon white balsamic vinegar
Optional garnish: 1 green onion, chopped
Whisk together the whiskey, brown sugar, 3/4 teaspoon of salt and 1/2 teaspoon pepper until the sugar and salt are dissolved. Stir in 1 tablespoon of the oil and two of the minced garlic cloves.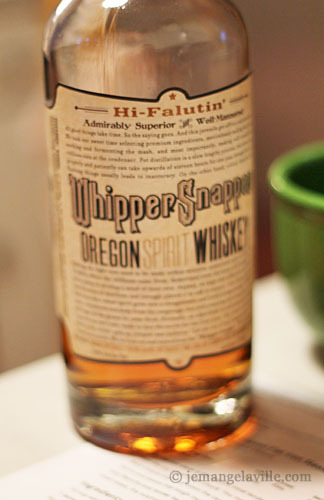 Add the steaks to the marinade, turn a few times to coat with the marinade and let stand at room temperature for 20 minutes. After removing the steaks, pat dry with paper towels. Pour the marinade into a small pot and bring to a boil. Boil for 2 to 3 minutes until slightly reduced, making sure the sugar does not burn, to make a glaze and sauce for the steak.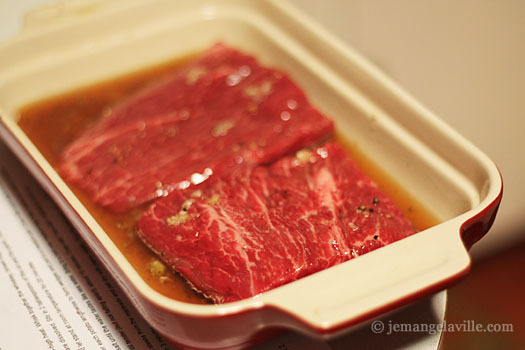 Meanwhile, quarter the sweet potato lengthwise to form wedges and put in a medium pot. Cover with cold water to cover by 1-inch and add a little salt. Bring to a boil over medium-high heat, reduce the heat to medium and simmer until tender (but not falling apart), about 15 minutes. Drain well. Toss with 1 tablespoon olive oil and the remaining minced garlic clove.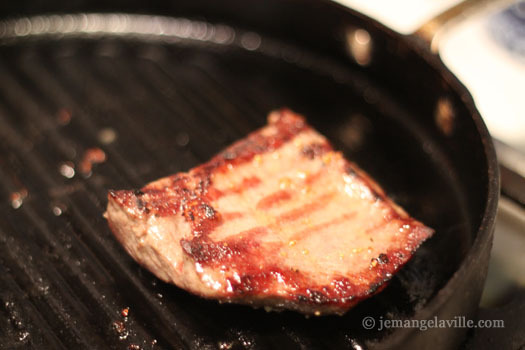 Preheat a grill pan over medium-high heat. Grill the steaks until an internal temperature on an instant-read thermometer reads about 130 degrees F for medium rare, about 3 to 5 minutes per side, brushing with the boiled marinade several times in the last few minutes of grilling time.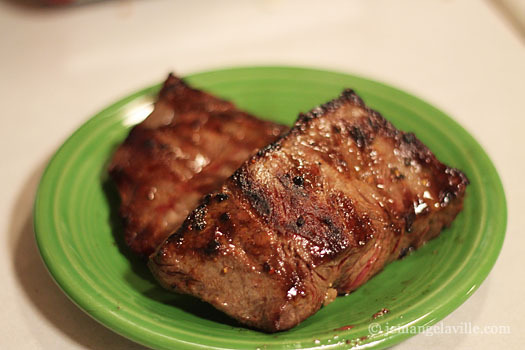 Transfer to a large plate to rest for 5 to 10 minutes. While the steaks rest, add the potatoes to the grill pan and grill until well-marked and crispy, turning to grill all sides, about 5 minutes total.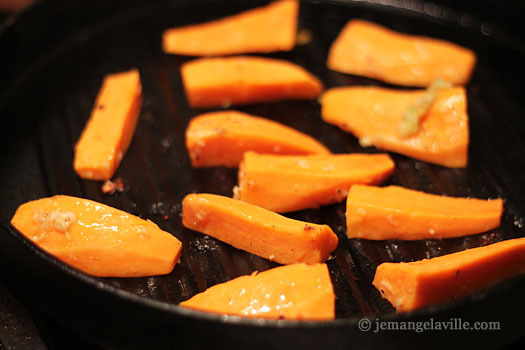 Transfer the potato wedges to a bowl and toss the with the remaining teaspoon of oil, vinegar and salt and pepper to taste.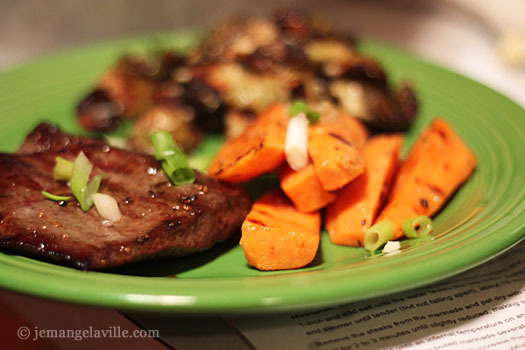 Serve the remaining glaze drizzled over the steaks with the potatoes and a vegetable (perhaps roasted brussels sprouts?) on the side. Garnish plate with chopped green onions. And a nice Cabernet Sauvignon on the side would be a good idea too.
Don't forget to enter to win a box of pears. Leave a comment on this post by 12/7 and you could get a free box of pears from USA Pears!