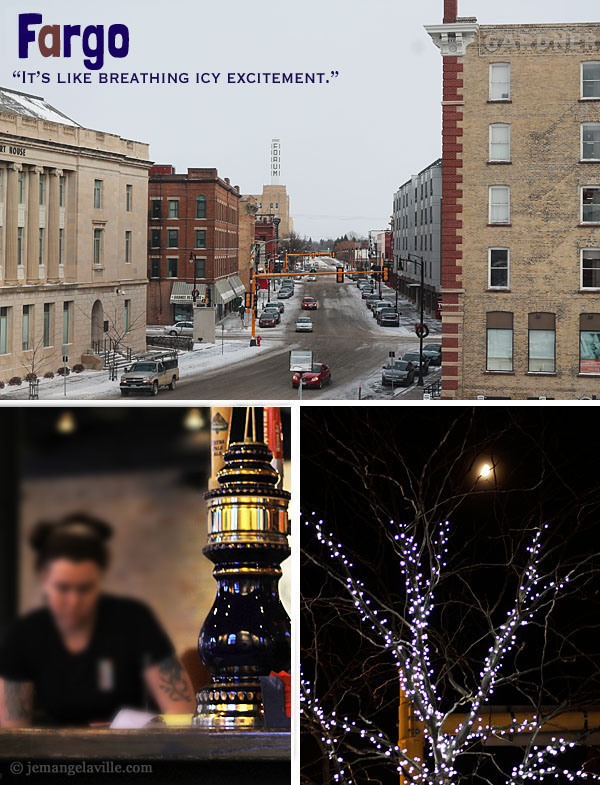 What better way to end 2012 than by posting photos from our Thanksgiving trip to Fargo, North Dakota. My mom recently moved back there (where she's from) after 40 some-odd years of living in Chicago. I remember going to Fargo somewhat regularly while growing up, but I had not been back there for probably 20 years. It was an adventure.
We stayed at the Hotel Donaldson (from now on, referred to as the HoDo), which if you are going to Fargo, is where you need to stay. You will look at the prices and you will think to yourself, "Really?"
But my advice to you is to move past that and just do it (especially if you can swing the non-refundable, advanced purchase rate). There are tall ceilings, fluffy beds, exposed brick walls and a lot of art in the walls. A very modern vibe with an historic building charm. And here's one of my most favorite things — the bathroom towels were super plush and steel grey in color. Non-white hotel towels. That is so unexpectedly awesome. Towel win!
The hotel also has North Dakota's only AAA 4 diamond restaurant and a pretty nice lounge-bar-type eatery. . . . → Read More: End of 2012 Photos, Part 2: Fargo, ND