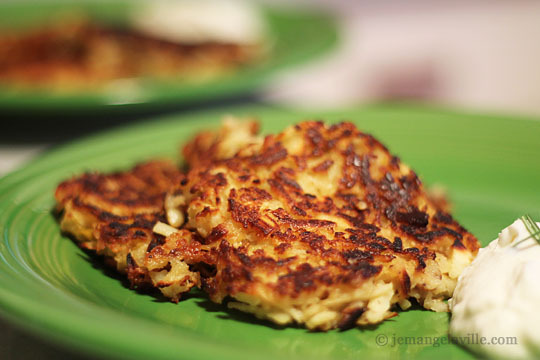 I am a huge fan of potato pancakes from way back, so when I came across this recipe for Parsnip and Pear Latkes, I was practically out the door to buy a pear the next second. And oh my, they are so good –crispy, a little sweet from the pear, salty and delicious.
I added bacon (oops!), onion & rosemary to the original recipe ingredients and if that works for you, I highly recommend it. If not, even without bacon, I can't imagine these still not being amazing. Just saute the onion in a little olive oil and continue on from there.
Notes: These are a little tricky to keep together. You can either add an extra egg white or whole egg to the batter, or just be very gentle with flipping them over and be prepared to be okay with one or two pancakes maybe falling apart.
Parsnip and Pear Pancakes with Horseradish Sour Cream
Adapted from a recipe in Bon Appétit magazine; serves 2-3
1 slice bacon
1 small shallot, diced
1 tsp chopped rosemary leaves
1 medium (about 6 oz) under-ripe Bosc pear, quartered, cored
1 large (about 8 oz) parsnip, peeled, cut into . . . → Read More: Parsnip and Pear Pancakes with Horseradish Sour Cream