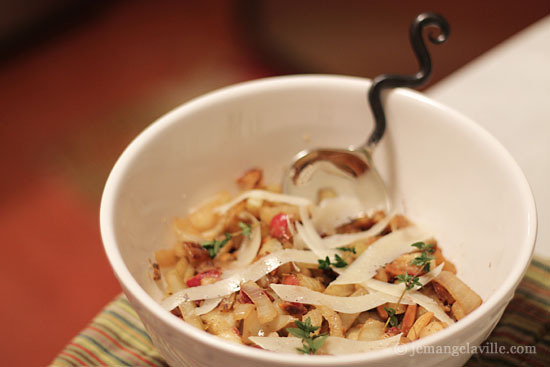 If there's one thing I really enjoy about fall & winter it's…well, it's sweaters, actually. But, besides the sweaters, it's pears. I like them even more than apples. Because of this, I substitute pears for apples in a lot of recipes — pear pies, pear sauce, pear wedges with brie, pears with caramel dipping sauce. In fact, I just made some Parsnip & Pear Pancakes that were completely delicious.
Recently, USA Pears offered to send me a whole box of pears to create a recipe for National Pear Month in December. I was so excited I actually came up with two recipes and this one is my favorite: Caramelized Fennel with Pear, Almonds and Parmesan. The fruit really brings out the sweetness of the mellow, caramelized fennel and the almonds and Parmesan cheese just make it more awesome. It's great as a side dish with chicken or turkey or even just on its own.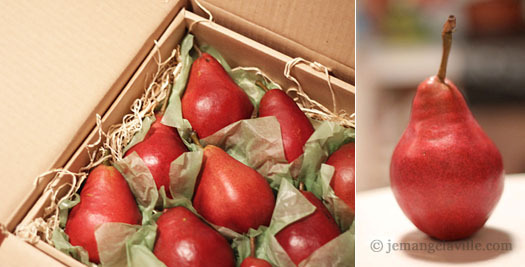 Adding to the excitement, I am also giving away a box of pears from USA Pears! Hooray! All you need to do to enter is leave a comment below. I will randomly pick a winner on Friday, December 7, around noon Pacific time. I'll get your address and USA Pears will ship the box of pears directly to you.
But before I get to the recipe, here are some handy facts about you-know-what (I feel like I'm saying pears an awful lot in this post):
pear nutrition facts (spoiler alert: they are very good for you)!
Caramelized Fennel & Pear Hash with Almonds and Parmesan
Serves 3-4
1-1/2 lb fennel (1-2 bulbs), top frawns removed
1 shallot
2 tbsp olive oil
salt & pepper
1 pear, cored and diced (I used a red Starkrimson)
1 tbsp white balsamic vinegar
1/4 cup toasted, slivered almonds
Parmesan cheese and thyme sprigs for garnish
Cut each fennel bulb in half, then in half again. Cut out the core from each quarter. Slice horizontally into strips. Set aside.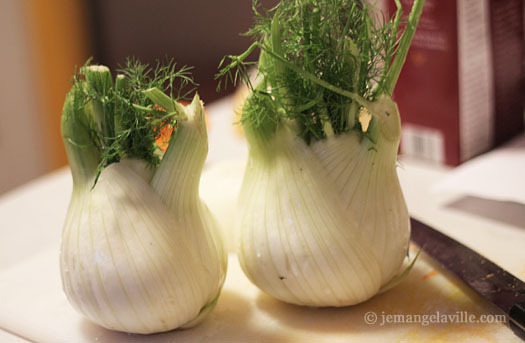 Cut the shallot in half and remove papery outer coating. Slice the shallot halves horizontally into strips about the same size as the fennel.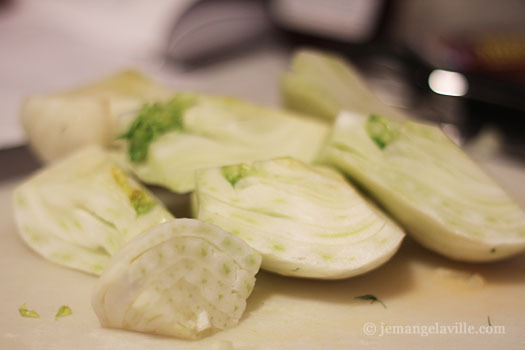 Heat a pan over medium heat and add the oil. Add the fennel and shallot and some salt and pepper.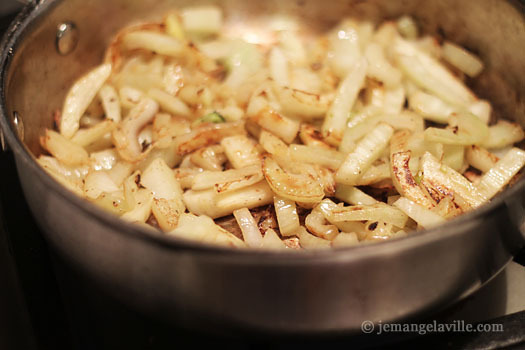 Cook, stirring occasionally, about 15-20 minutes, until starting to brown and caramelize. Add the diced pear and almonds and cook for about 5 more minutes.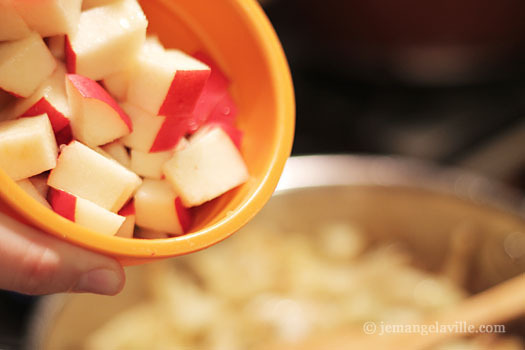 Drizzle with the white balsamic vinegar and taste. Adjust salt, pepper and balsamic as needed.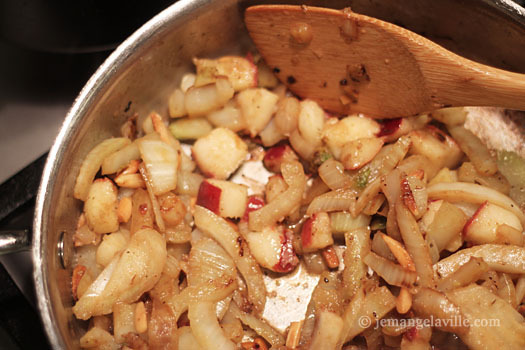 Serve in a large bowl. Garnish with the fresh thyme leaves and strips of Parmesan cheese, using a vegetable peeler to shave off the strips.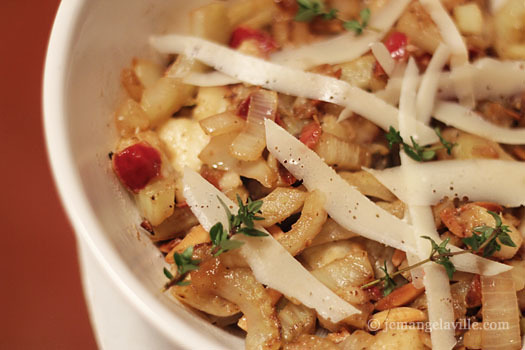 Winner has been chosen and is being notified! Thanks everyone for commenting!